October 16, 2023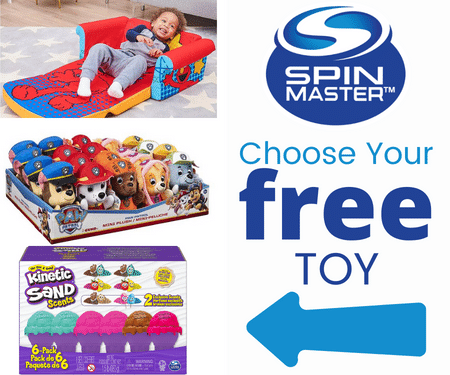 Free Spin Master Toys & Games
Unlock Fall Fun: Your Chance to Review Free Spin Master Toys!
Hey there, toy enthusiasts! We've stumbled upon an exciting opportunity that'll make your inner child jump for joy. You can get free Spin Master Toys & Games. They are offering a chance to review their latest Fall 2023 lineup, featuring Aquaman action figures, Disney Princess sofas, Monster Jam trucks, and more!
Curious about how you can snag one of these fantastic toys for free? It's as easy as 1-2-3! Follow these steps:
Choose Your Favorite: Browse through the lineup—Aquaman, Kinetic Sand, Marshmallow Furniture, Monster Jam, Paw Patrol Plush, or the "Tag Someone Who" Card Game. Which one caught your eye?
Take the Survey: Ready to claim your free toy? Complete a quick survey on the linked page. Share your preferences, and let Spin Master know why you're the perfect candidate to review their Fall collection.
Open to All Canucks: This exclusive opportunity is open to residents of Canada only, so our maple-leaf friends, this one's for you!
The Lineup in a Nutshell:
Aquaman Adventures: Dive into imaginative play with action figures and accessories.
Kinetic Sand Sensation: Unleash creativity with kits from this beloved sensory toy brand.
Comfy & Cute: Choose between Disney Princess or Paw Patrol-themed 2-in-1 sofas for your little ones.
Monster Jam Thrills: Rev up the excitement with exclusive die-cast monster trucks.
Paw Patrol Pal: A mini plush companion from PAW Patrol: The Mighty Movie.
IRL Tagging: Get ready for laughs with the "Tag Someone Who" Card Game—perfect for adult card nights and family gatherings. Act Fast!
The clock is ticking! This golden opportunity is open until October 18, 2023.

Don't miss your chance to add free Spin Master toys to your collection. Ready to dive into the world of Spin Master? Click below and let the fun begin! 🚀🎮
Want more free stuff? Check out our Free Samples Page
Good luck, and may the toys be ever in your favor! 🌟