October 2, 2023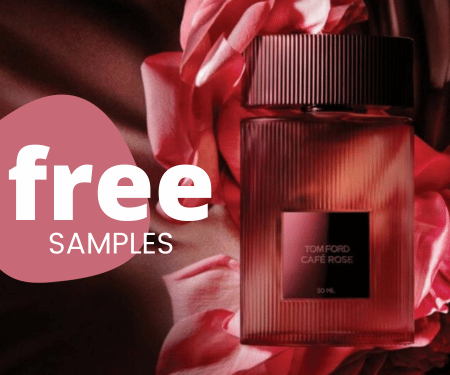 Free Tom Ford Café Rose Sample
Unlock the Scent: Your Guide to Snagging a Free Tom Ford Café Rose Sample
Attention fragrance enthusiasts! I've stumbled upon an exciting opportunity for you to experience the allure of Tom Ford's Café Rose—for free! No catch, just pure olfactory delight.
Imagine diving into a labyrinth of dark roses, where the spicy warmth of Patchouli and floral notes of Roses meet the creamy richness of coffee. This Tom Ford Café Rose Sample is a symphony of scents, harmoniously serenading with the deep allure of Sandalwood and exotic Frankincense. Café Rose redefines rose perfumes, creating a sultry, luxurious scent that's both contemporary and timeless.
Now, here's the exciting part. Tom Ford is offering free samples on TikTok. Follow these steps to unlock the magic:
Follow TOM FORD Beauty: Head to TikTok and follow TOM FORD Beauty's official account. Not only will you stay updated on brand news, but it might increase your chances of spotting the sample giveaway ad.
Engage with Their Content: Show some love! Interact with TOM FORD Beauty's content, especially the fragrance-related posts. This signals TikTok's algorithm, making it more likely for you to come across the ad.
Use TikTok's Search Feature: Dive into searches related to "TOM FORD Café Rose." Engaging with content from these searches can up your chances of the sample ad popping up on your feed.
As you scroll through TikTok, stay vigilant. The TOM FORD ad can appear at any moment.

Keep an eye out for the sponsored Reel, and here's a screenshot to help you identify it quickly.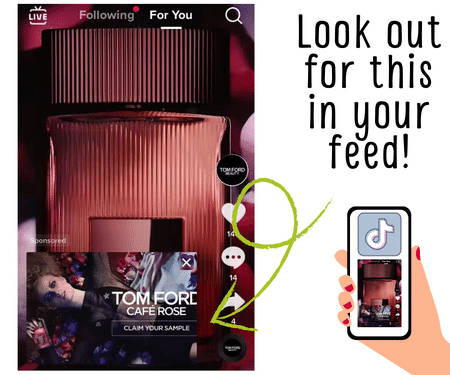 This isn't a promotion from me or my site—it's just a fellow fragrance lover sharing the secret to unlocking a free olfactory experience. Swipe through TikTok with anticipation, and let the scent adventure begin!
Want more free stuff? Check out our Free Samples Page