October 25, 2023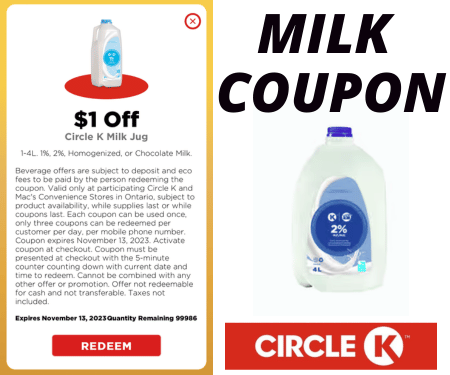 $1 Off Milk at Circle K
Parents, Rejoice! Here's How to Snag a $1 Off Milk Coupon at Circle K
I've uncovered a simple yet udderly fantastic way to save on your milk fix—say hello to a $1 Off Coupon at Circle K. Wondering how? Let me spill the details.
How to Grab Your $1 Off Milk Coupon:
Click on the link provided below.
Navigate through the straightforward steps.
Voila! Your $1 Off Milk Coupon is ready for action.
This isn't about me or my site being the coupon fairy; it's about sharing the goodness. I stumbled upon this deal and thought, "Why keep it to myself?"
Why Circle K's Milk?
Well, first off, who doesn't love a good deal on milk? But beyond that, Circle K offers quality that's a cut above. From your morning coffee to midnight cereal cravings, this $1 Off Coupon sweetens the deal.
Using Your $1 Off Coupon:
Head to your nearest Circle K.
Pick up your favorite milk.
At the checkout, flash that $1 Off Coupon.
Watch your total melt away.
Simple, right? Now, I know we all appreciate saving a few bucks, and this is as easy as it gets. No hoops to jump through, just straightforward milk savings. This Milk Coupon isn't forever. Grab it while the milk is cold and the deal is hot.
Want more free stuff?

Check out our Free Samples Page

In a nutshell, it's not about who's giving away the coupon; it's about everyone enjoying a dollar off their milk. Cheers to savvy savings!