October 18, 2023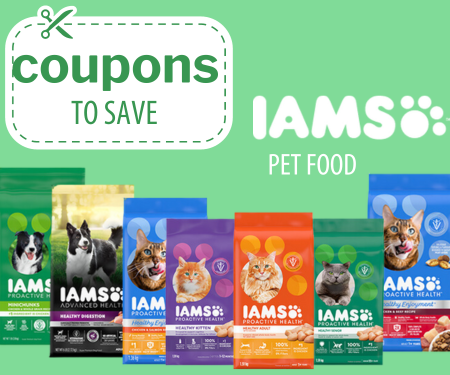 Iams Pet Food Coupons
Save with Iams Pet Food Coupons: How to Get and Use Them
If you're a pet owner in Canada, here's a fantastic opportunity to save on your furry friend's favorite Iams products. I recently discovered some valuable coupons that can help you save on Iams dry cat and dog food. But let's make one thing clear; it's not about me or my website offering these coupons. I'm here to explain how you can get them and make the most of your savings.
Visit the Iams Canada Website: To access these money-saving coupons, start by visiting the official Iams Canada website. Once you're there, you'll find new mail-to-home coupons waiting for you.
Choose Your Coupons: Among the available coupons, you have three options to choose from:
Save $4 on the purchase of any small bag of IAMS Dry Cat Food 1.36kg – 1.59kg (valid on small bags).
Save $4 on your first bag of IAMS PROACTIVE HEALTH HEALTHY ENJOYMENT 1.36kg – 2.72kg.
Save $5 when you buy any bag of IAMS Dry Dog Food.
Use Your Coupons: Once you've selected the coupons that suit your needs, it's time to use them for savings. Here's how you can do it, wait for your coupons to be mailed to the address you provided and present them at checkout when shopping for IAMS products.
These coupons can make a real difference in your pet care budget. For example, if you purchase small bags of Iams dry cat food, which are often on Rollback for $13.97, you can use the $4 coupon to bring the cost down to just $9.97. Similarly, with the $5 coupon for Iams dry dog food, you can snag a 1.5kg bag for only $4.97 at Walmart, where they're priced at $9.97.
These savings can add up over time and help you provide your pets with high-quality Iams products without breaking the bank. If you're a pet owner looking to save on premium pet food, choose your coupons, and head to the store to enjoy these fantastic discounts. Your pets will thank you for it!
Want more free stuff? Check out our Free Samples Page