October 30, 2023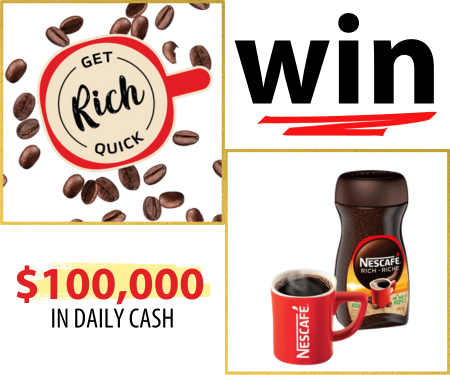 Win $10,000 Cash!
A Chance At $10,000 Cash: How You Can Join the Nescafé Rich Contest
Hey there, friend! I recently stumbled upon an amazing opportunity that I just had to share with you. I'm not the one offering this fantastic prize, but I've found a way for you to get in on the action. Imagine winning your share of $100,000 in daily cash prizes – sounds pretty sweet, right? Here's how you can take part in the Nescafé Rich contest and have a shot at winning up to $10,000!
The Lowdown on the Contest:
First things first, this contest is all about Nescafé Rich, a brand that many of us already know and love. What's the deal? Purchase at least one participating Nescafé Rich product, and you'll be in the running for some seriously impressive cash prizes. But how do you participate? It's as easy as 1, 2, 3!
Step 1: Grab Your Nescafé Rich
Start by heading to your local store and picking up any qualifying Nescafé Rich item. There are usually plenty of options to choose from, so you're bound to find something you like.
Step 2: Snap a Photo of Your Receipt
Here's where things get fun. After making your Nescafé Rich purchase, take out your phone and snap a clear photo of the entire receipt.

Make sure the details are visible and legible – you don't want to miss out on your chance to win because of a blurry photo.
Step 3: Submit Your Receipt and Win!
Now, this is the moment of truth. Head over to the contest website (you'll find all the details there) and follow the simple instructions to submit your receipt. Once that's done, you'll officially be entered for a chance to win a cash prize of up to $10,000!
Don't Wait, Join Today!
But here's the catch: you've got to act fast. The contest ends on December 18, 2023, and you don't want to miss out on your shot at these incredible cash prizes. It's as simple as enjoying your favorite Nescafé Rich products and turning your receipt into a winning ticket.
So, what are you waiting for? Grab your Nescafé Rich, snap that receipt, and get ready to potentially win your share of $100,000. This contest is your chance to score some serious cash, and I can't wait to hear about your winnings! Good luck, my friend!
Want more free stuff? Check out our Free Samples Page