October 23, 2023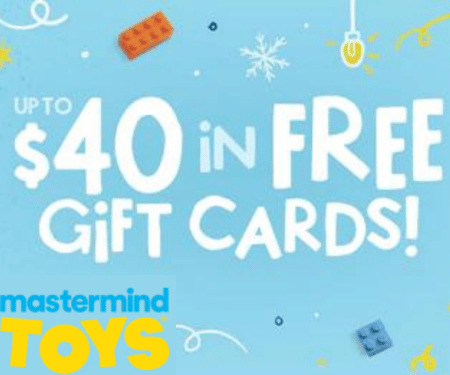 Mastermind Toys Free Gift Card Event
Unlock Rewards: How to Register for Mastermind Toys' Free Gift Card Event!
Hey fellow toy enthusiasts! 🎁 I just stumbled upon a gem of an opportunity that I couldn't wait to share with you. Mastermind Toys Canada is hosting a Free Gift Card Event that's too good to miss. This isn't your typical sales pitch; it's a genuine chance to score some extra goodies while doing what you love—shopping for toys!
1. Spend and Earn: For every $50 you spend on both regular and sale priced merchandise, Mastermind Toys is generously handing out a $10 gift card. Yes, you read that right—free money to treat yourself or your loved ones!
2. Load Up Your Gift Card: The $10 gift card isn't just a fleeting deal; it gets loaded onto a Mastermind Toys Gift Card, ready to be used for a future toy spree. It's like a little bonus gift that keeps on giving.
3. Valid Until October 31st: Don't wait too long to dive into this offer; it's valid until October 31st. The clock is ticking, and the opportunity to accumulate those gift cards is knocking at your door.
4. Maximum $40 in Gift Cards: The more you shop, the more you earn—up to a maximum of $40 in gift cards for a $200 purchase.

Imagine the possibilities for your next toy haul!
5. No Expiry Date: Worried about gift cards expiring? Fear not! The gift cards you receive from this event have no expiry date. They're there, patiently waiting for that perfect moment to be redeemed.
This isn't just an event; it's a chance to add a little extra joy to your toy shopping experience. Ready to dive in? Head to the link below for details on getting free gift cards!
Want more free stuff? Check out our Free Samples Page
Happy shopping and even happier savings! 🛍️✨