October 23, 2023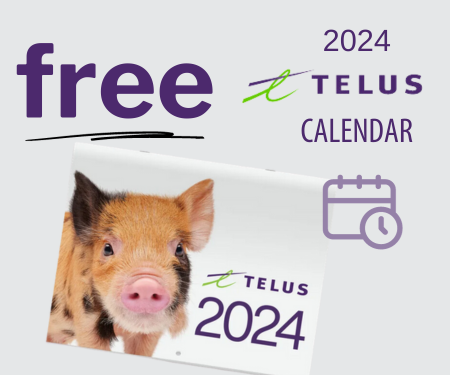 Free 2024 TELUS Calendar
How to Get Your Free 2024 TELUS Calendar
Are you a TELUS customer eager to add a touch of magic to your upcoming year? The 2024 TELUS calendar is back, and this time it comes with an exciting twist – an interactive experience you've never seen before. In this blog post, we'll guide you through the simple steps to secure your very own 2024 TELUS calendar.
Before we dive into the details of how to claim your free calendar, let's explore what makes it so special. The 2024 TELUS calendar is not just a regular date-keeping tool. It's a gateway to an augmented reality adventure featuring TELUS critters like you've never seen them before. With this calendar, your critter friends come to life, making your year ahead truly enchanting.
How to Snag Your Free 2024 TELUS Calendar:
Now, here's the exciting part. You can get your hands on this extraordinary calendar without any cost. Here's how:
Visit telus.com/calendar: Head over to the dedicated TELUS calendar page, where all the magic begins.
Order with My TELUS Account: If you're already a TELUS customer, simply login to your My TELUS account. If not, don't worry; we'll guide you through creating one.
Create My TELUS Account: If you don't have a My TELUS account yet, click on 'Create My TELUS account.' It's a quick and easy process.
Confirm Your Mailing Address: After logging in, you'll be directed to a checkout page. Here, ensure all fields are accurate, especially your mailing address.
Place Your Order: Once everything looks good, click 'Place Order' to complete your order.
Confirmation: You'll see a confirmation page to assure you that your order has been successfully placed.
When Can You Expect Your Calendar?
Your calendar will make its way to your mailbox in approximately 6-8 weeks after you've submitted your order. Keep in mind that during the busier holiday period, there might be slight delays.

Please note that all calendar shipments will commence in December.
So, there you have it – a simple, step-by-step guide to obtaining your free 2024 TELUS calendar with augmented reality magic. Get ready to make your 2024 unforgettable with your TELUS critter companions. Happy ordering!
Want more free stuff? Check out our Free Samples Page