October 16, 2023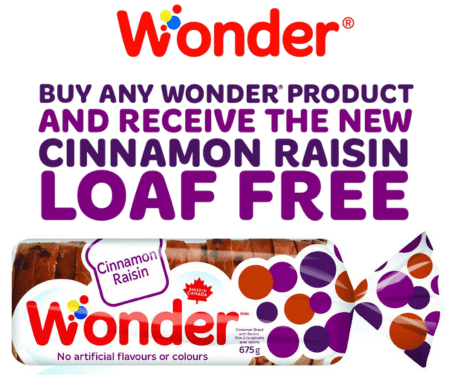 BOGO Free Wonder Cinnamon Raisin Loaf
Hey there, savvy shoppers BOGO Free offer coming in toasty! If you're a fan of saving big on your grocery bills, this offer is one you won't want to miss. Websaver is giving everyone the opportunity to score a FREE Wonder Cinnamon Raisin Loaf when you purchase any Wonder product – it's a Buy One, Get One (BOGO) FREE deal that's simply too good to pass up!
Wondering how to take advantage of this amazing offer? It's easy! Here's a quick guide on how to get your hands on the free Wonder Cinnamon Raisin Loaf:
Visit the linked website and look for the BOGO Wonder Product offer. Click on the coupon to select it and print it off. Next, head to your nearest grocery store or retailer that carries Wonder products. You can find Wonder bread in many locations, so you won't have to travel far. Once you're at the store, grab any Wonder product of your choice. There's a wide range to choose from, so you're sure to find something that suits your taste. As a delightful bonus, you'll receive the new Wonder Cinnamon Raisin Loaf for free!

Yes, you heard that right – you'll get a mouthwatering loaf of goodness at no extra cost.
Whether you want to share this delectable treat with someone special or savor it all by yourself, this BOGO Free offer is a win-win situation.
It's essential to note that this coupon offer is not from my website or me. I'm genuinely excited to share this opportunity with you, as I know how much we all appreciate getting more value for our money.The Websaver & Wonder BOGO deal is the perfect chance to stock up on your favorite Wonder products and enjoy an extra treat on the house. But don't wait too long – this offer won't be around forever.
So, what are you waiting for? Head over to Websaver, grab your coupon, and get ready to score fantastic savings on Wonder products. Happy shopping and happy eating!
Want more free stuff? Check out our Free Samples Page