November 6, 2023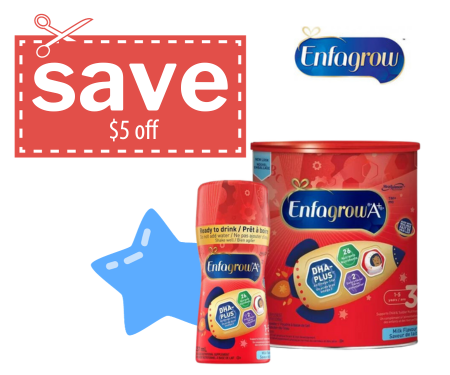 Save $5 Enfagrow A+ Toddler
Unlock Savings: How to Save $5 off Enfagrow A+ Toddler Nutritional Drink
If you're a parent looking for savings on Enfagrow A+ Toddler Nutritional Drink, you're in for a treat. I've discovered a valuable coupon that can help you save on this essential toddler nutrition. This blog post is all about sharing how you can access and make the most of this coupon. It's not about us or our website providing the coupon; it's about guiding you through the process to help you save on your purchase.
How to Use the Coupon
Once you've secured your Enfagrow A+ Toddler Nutritional Drink coupon, here's how to put it to good use:
Print the Coupon: The coupon will be available in a printable format. Make sure your printer is ready, click "Print," and wait for the coupon to come out.
Review the Coupon Details: Carefully read the terms and conditions mentioned on the coupon. Ensure it's valid for the specific Enfagrow A+ Toddler Nutritional Drink products you plan to purchase.
Redeem at a Participating Store: Take your printed coupon to a participating store that sells Enfagrow A+ Toddler Nutritional Drinks. Most major grocery stores and pharmacies carry this product.
Present the Coupon at Checkout: When you're ready to make your purchase, hand the printed coupon to the cashier during checkout. They will apply the discount to your total.
Coupon Details
The coupon allows you to save $5 on the purchase of Enfagrow A+ Toddler Nutritional Drink in milk or vanilla flavor in the 907g powder format or the Ready to Drink format, which comes in 6 x 237mL bottles.
Saving on essential toddler nutrition is a wonderful way to manage your family's expenses. Remember, it's not about us providing the coupon; it's about helping you access these savings. By following the simple steps outlined in this blog post, you can unlock the opportunity to save on Enfagrow A+ Toddler Nutritional Drink. Don't miss this chance to provide your little one with the nutrition they need while keeping your budget in check.
Want extra savings? Check out Flipp. This is your one-stop marketplace for savings and deals. Search for products you have coupons for and combine them for extra savings!