October 30, 2023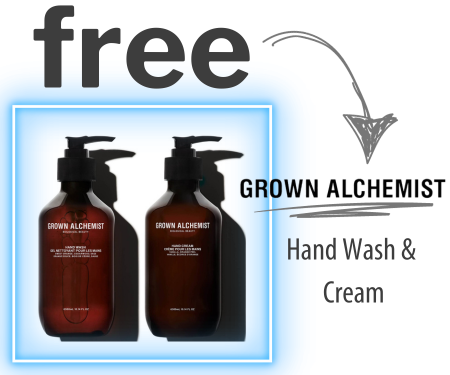 Free Grown Alchemist Hand Wash & Hand Cream
Free Grown Alchemist Hand Wash & Hand Cream: A Review Opportunity
Hello, my friends! I've got some exciting news to share with you today. I recently stumbled upon a fantastic opportunity to score a free sample of the Grown Alchemist Hand Wash and Hand Cream. The best part? You can get in on this too, and it won't cost you a thing. No, it's not me or my website giving away these samples, but I'm here to guide you on how to potentially snag these goodies for yourself.
Grown Alchemist, a brand known for its commitment to clean and eco-conscious beauty products, is on the lookout for lucky advocates to test their Hand Wash and Hand Cream. These products are not only good for your skin but also for the planet. Let's take a closer look at what's up for grabs:
Hand Wash:
This gentle gel hand wash is packed with skin-softening and plant-based cleansers, ensuring your hands are thoroughly refreshed and soothed. The fragrance, a delightful mix of Sweet Orange, Cedarwood, and Sage, adds a touch of luxury to your hand-washing routine. And, for those who care about the environment, you'll be pleased to know that this product is vegan, cruelty-free, and comes in recyclable packaging.
Hand Cream:
For those dry hands and cuticles, Grown Alchemist's Hand Cream is a game-changer. It's nongreasy and comes with a powerful blend of botanicals and nourishing plant oils.

The delightful Vanilla and Orange Peel fragrance will make you look forward to moisturizing your hands. And, just like the Hand Wash, this product is vegan, cruelty-free, and packaged with our planet in mind.
How to Get Your Free Sample:
To join in on this exciting opportunity, all you need to do is fill out a short application form. It's that simple! If you're selected, you'll receive these fantastic products to try for yourself. Keep in mind that this opportunity is open to residents of Canada only and you must be logged in to your Butterly Account. If you are not a member yet, join Butterly and the Grown Alchemist Community to access this opportunity.
Act Now – Limited Slots Available:
Don't wait! Submit your application and keep an eye on your email over the next 1-2 weeks. Who knows, you could be one of the lucky candidates chosen to experience the luxury of Grown Alchemist Hand Wash and Hand Cream. So, get ready to pamper yourself and your skin with these fantastic products. Good luck, and here's to healthy, beautiful hands!
Want more free stuff? Check out our Free Samples Page