October 30, 2023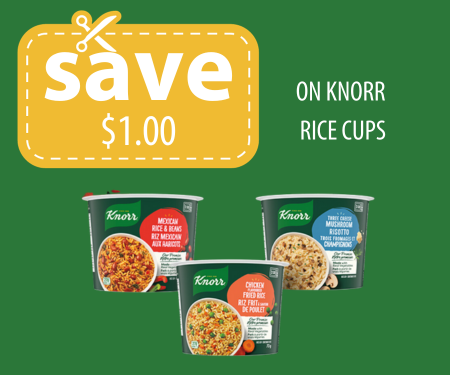 Save on Knorr Rice Cups
How to Save $1.00 on Knorr Rice Cups
Who doesn't love a good deal? We all do! Saving money on everyday essentials, like groceries, can add up over time. Today, I'm excited to share a simple yet effective way to save $1.00 on any Knorr Rice cup, whether you prefer to print the coupon or use the cashback option. The best part? Anyone can do it!
To kick off your savings journey, head over to the website provided where you'll find the coupon. They often offer various promotions and discounts to their customers, including the coveted $1.00 coupon for the Rice cups.
Select Your Coupon
In the coupon section, you'll have the option to print the coupon or use the cashback option. To keep things simple, we'll discuss both methods.
Printing the Coupon
If you prefer a traditional approach, click on the "Print Coupon" button. Make sure you have a printer set up and ready. Once you click, the coupon will be sent to your printer, and you can take it to your local store to redeem it when purchasing your favorite Knorr Rice cups.
Using the Cashback Option
Alternatively, you can choose the cashback option. Click on the "Cashback" button and follow the on-screen instructions.

Typically, this will involve submitting a photo of your receipt after buying the Knorr Rice cups. Once verified, you'll receive $1.00 cashback in your account.
Redeem Your Savings
With the coupon in hand or cashback secured, head to your preferred grocery store. Pick up your desired Knorr Rice cups, and at the checkout, present your coupon for a dollar off or use the cashback method to save. It's that easy!
Saving money doesn't have to be complicated. Knorr makes it easy for you to enjoy their delicious Rice cups while keeping your wallet happy. Whether you print the coupon or use the cashback option, the process is straightforward and accessible to all. So, what are you waiting for? Start saving on your next Knorr Rice Cup purchase today!
Want extra savings? Check out Flipp. This is your one-stop marketplace for savings and deals. Search for products you have coupons for and combine them for extra savings!