October 18, 2023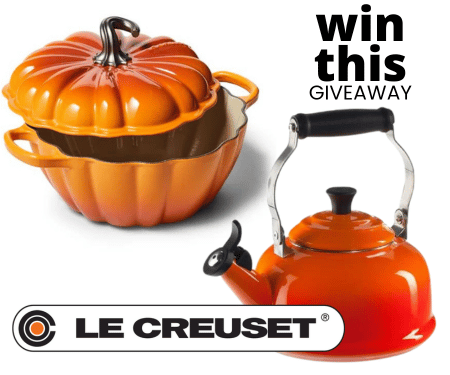 Win Le Creuset Cookware
Win Le Creuset Cookware: Your Recipe for Kitchen Elegance Begins Here!
Guess what? I stumbled upon this incredible fall giveaway, and I couldn't wait to spill the beans on how you can snag some top-notch Le Creuset cookware without spending a dime.
Consiglio's got this killer deal where you can enter to Win Le Creuset Cookware! Not one but two amazing pieces—the 3.7l pumpkin persimmon cocotte (fancy, huh?) and the classic flame whistling kettle. Picture your kitchen decked out with these beauties, valued at a whopping $585! 🎉 Now, here's the scoop on how you can get in on the action:
Head to Consiglio's Giveaway Page: Yep, that's ground zero. Swing by and take a gander at the Le Creuset Pumpkin Cocotte and the Classic Flame Tea Kettle. Trust me; it's a feast for the eyes.
Hit Enter Like There's No Tomorrow: The entry process is a breeze. Just a click away from potentially scoring these kitchen gems. Go on, give it a shot!
Imagine Your Kitchen Upgrade: Seriously, think about it. Picture that pumpkin cocotte sitting on your stove, and the classic flame kettle adding a touch of elegance to your tea sessions. Dreamy, right?
Spread the Word (Optional): You know the saying, "Sharing is caring." Feel free to let your friends in on the secret. They might thank you when they're sipping tea from that fabulous kettle.
Want more free stuff? Check out our Free Samples Page
Remember, I'm not the fairy godmother here, but I couldn't resist letting you in on this autumn delight. Enter, cross your fingers, and who knows—you might just be the lucky winner of this Le Creuset dream team.