November 7, 2023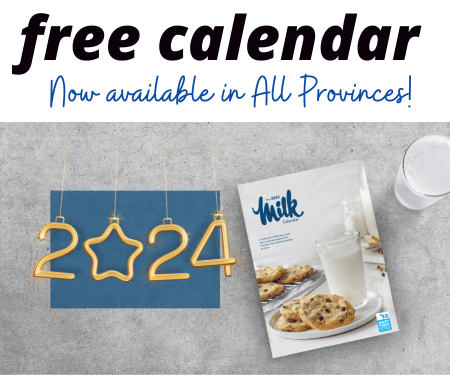 Get a Free 2024 Milk Calendar
Savor the Flavors: How to Snag Your Free 2024 Milk Calendar!
Hey fellow foodies! 🥛✨ Imagine a year filled with delicious recipes, all at your fingertips. Well, good news—it's not a dream! The 2024 Milk Calendar is here, and you can get your hands on it for FREE. 📅
Unveiling Culinary Delights: This isn't your average calendar. The 2024 Milk Calendar is a treasure trove of exceptional recipes, crafted with the goodness of high-quality Canadian milk and local ingredients. Each page is a culinary masterpiece waiting to be explored.
How to Get Yours: Getting your hands on this culinary gem is a breeze. Simply fill out the form below, and voila! Your very own 2024 Milk Calendar will be on its way to your doorstep. It's like having a personal chef guiding you through the year.
Easy as 1-2-3:
Fill Out the Form: Head over to the form below and share your details. Quick and easy, just like whipping up your favorite recipe.
Wait in Anticipation: Milk Calendars are up for grabs on a first-come, first-served basis. So, don't dilly-dally—get in early and secure your copy while supplies last.
Enjoy the Goodness: Once your calendar arrives, dive into the delectable world of easy-to-make, beautiful-to-photograph, and downright delicious recipes. Your taste buds will thank you!
Act Fast, Feast Longer: This offer won't last forever, and neither will the Milk Calendars. It's a culinary adventure waiting to unfold, so don't miss out!
Want more free stuff? Check out our Free Samples Page
Get ready to turn each month into a culinary celebration! 🎉🍽️