Chicken Avocado Tacos
December 3, 2018, BY Brittany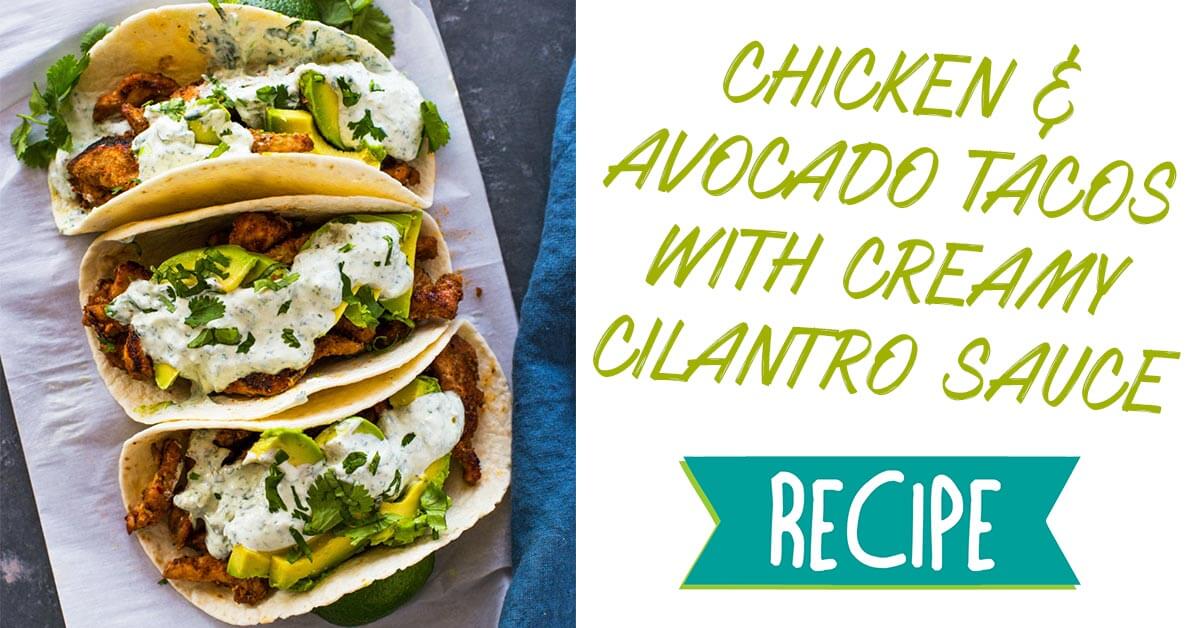 Turn any night into taco night with these delicious grilled chicken and avocado tacos complete with a creamy cilantry sauce! They are bursting with flavour and ready in less than 30 minutes.
Ingredients
For the Chicken
1 pound chicken breasts cut into bite size pieces
2 tbsp olive oil
2 clove garlic crushed or minced
1 tbsp chili powder
1/2 teaspoon ground cumin
1/4 teaspoon onion or garlic powder
1/4 teaspoon kosher salt
1 tbsp olive oil
A squeeze of lime optional
Cilantro lime sauce
1/2 cup sour cream or Greek Yogurt or Mayo
1/4 cup cilantro
1 clove garlic
1 teaspoon lime juice
salt and pepper to taste
To Assemble
2 avocados, sliced
6-8 small tortillas corn or flour
Instructions
To Make Chicken
Chop 2-3 medium chicken breasts into small bite-size pieces. In a medium bowl whisk together olive oil, garlic, chili, cumin, onion powder, and salt. Add in chicken and toss to coat completely. Cover and refrigerate for at least 10 minutes or up to 48 hours. 
To cook: Heat a large heavy-duty or cast iron skillet on high heat for 1 minute. Add the olive oil and chicken. Cook chicken in a skillet over medium-high heat until charred and cooked through, 8-12 minutes. Turn off heat and finish with a squeeze of lime (optional). 
Originally posted on
Freebies.com