August 16, 2023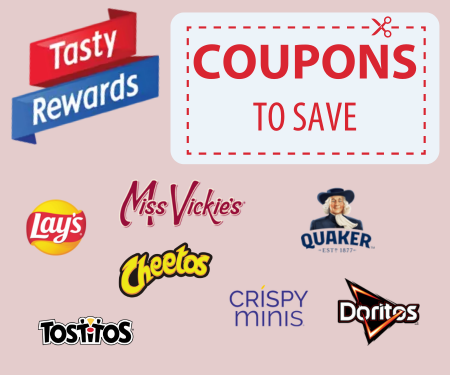 Savory Savings: High-Value Tasty Rewards Coupons
Get savory savings with these exclusive high-value coupons from Tasty Rewards! I found a way to enjoy fantastic savings on some of your favorite snacks from Frito-Lay and Quaker brandsI'm here to dish out the details on how I got my hands on these exclusive high-value coupons from tasty rewards, and guess what? You can too!
I found member-exclusive coupons and savings on Frito-Lay and Quaker products. Yes, you heard it right, exclusive savings just waiting to be enjoyed. All you need to do is sign up for the Tasty Rewards membership. It's like unlocking a treasure trove of savings on some of the best snacks out there. Who doesn't love saving while indulging in their favorite treats?
The process is straightforward, sign up, become a member, and voila! You'll have access to a collection of coupons and offers that are designed to make your snacking experience even better. And the best part? You can choose how to use these coupons. Print them out and take them to your local store, or use them as cashback coupons when you make your purchase.
Now, let's talk about the brands you'll be diving into. Frito-Lay and Quaker, need I say more? From crispy chips to wholesome oats, you'll find a range of options that cater to your cravings, whether it's a movie night or a quick snack break at work.
As a Tasty Rewards member, you'll have access to these coupons and offers on an ongoing basis. It's like having a savings companion whenever you're on the hunt for a satisfying snack. Imagine treating yourself to your favorite Frito-Lay chips or a comforting bowl of Quaker oatmeal, all while knowing you're enjoying some smart savings.
These are the current offers:
Save $1.50 off Tostitos AND Tostitos salsa/dip
Save $1.00 off Cheetos
Save $1.00 off Doritos
Save $1.00 off Popcorners
Save $1.00 off Lay's OR Lay's Poppables
Save $1.00 off Cheetos
Save $1.00 off Quaker
Save $1.00 off Quaker Chewy
Save $1.00 off Miss Vickie's
Save $1.00 off Crispy Minis
So, my snacking-savvy friend, why not elevate your snack game? Join the Tasty Rewards membership and get some great savings on these delicious snack items!
Want more free stuff? Check out our Free Samples Page