August 16, 2023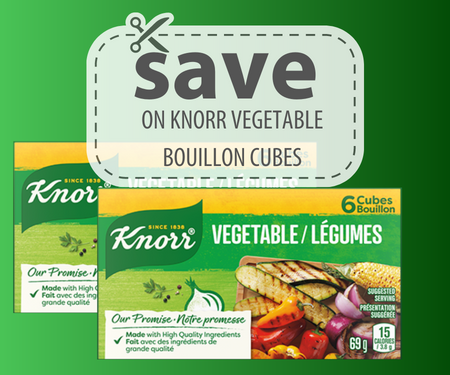 Coupon To Save on Knorr Vegetable Bouillon Cubes
Want a coupon to save on Knorr Vegetable Bouillon Cubes? I've stumbled upon a little secret that's too good not to share and is a way to enhance your culinary creations while saving a buck. Is like a friendly tip on how to get in on some smart savings and elevate your meals with ease by using a coupon to save on Knorr Vegetable Bouillon Cubes.
Imagine giving your dishes that extra punch of flavor with Knorr Vegetable Bouillon Cubes. Now, imagine doing that while saving $1 on your purchase. Yes, you read that right, a whole dollar off! And the best part? It's simple, no fuss, and all about enhancing your meals without straining your wallet.
You get to print out a coupon that's like a golden ticket to your kitchen adventures. The next time you're out shopping, pick up your favorite Knorr Vegetable Bouillon Cubes, and when you're checking out, present your coupon. Just like that, you'll get $1 off your purchase, it's like a little treat for your budget.
I know what you might be thinking, coupons can be a hassle, right? But not this one. It's straightforward, no strings attached. You buy, you save, you enjoy – it's as simple as that.
What I love about this offer is that it's not tied to a specific timeframe. It's there whenever you decide to embark on your flavor-packed journey. Whether you're cooking up a cozy homemade soup or adding that special touch to your stir-fry, Knorr has your back.
Here's your chance to enhance your dishes and your savings. Print that coupon, pick up your Knorr Vegetable Bouillon Cubes, and get ready to enjoy your meals on a whole new level. It's like adding a dash of yum to your everyday cooking routine!
Want more free stuff? Check out our Free Samples Page