August 16, 2023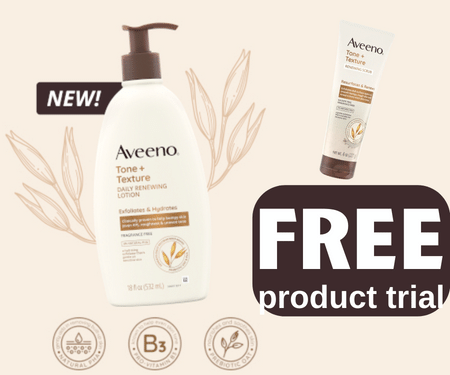 Free AVEENO® Body Care: Product Review
This new AVEENO® Body Care free product review is underway now! If you have a desire for smooth, moisturized, and even-toned skin, this is your chance to shine. If you're seeking a solution to achieve that radiant summer glow, look no further. AVEENO® Body Care has your back! In this product review you have a chance to try one of five products designed to rejuvenate our skin and boost our confidence.
AVEENO® Daily Moisturizing Scrub
AVEENO® Stress Relief Body Scrub
AVEENO® Tone + Texture Renewing Body Scrub
AVEENO® Tone + Texture Renewing Night Cream
AVEENO® Tone + Texture Daily Renewing Lotion
If you're intrigued by this opportunity from AVEENO® Body Care, take a moment to complete the brief survey linked below. This step puts you in the running to receive one of AVEENO®'s remarkable products for free. This exciting opportunity is for residents of Canada. The chance to participate ends on August 20, 2023.
Elevate your summer skincare with AVEENO® Body Care. Begin your journey to revitalized, glowing skin. Best of luck!
Want more free stuff? Check out our Free Samples Page
Remember, we're not giving away these products – we're sharing a fantastic way for you to experience their benefits. Cheers to a confident summer glow!