August 17, 2023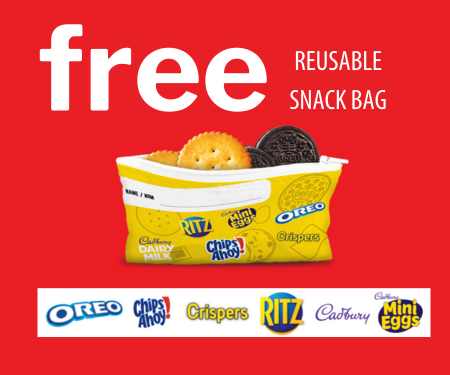 Free Reusable Snack Bag
Want to score a free reusable snack bag? I couldn't wait to share this fantastic opportunity with you. Imagine getting your hands on a free reusable snack bag, sounds awesome, right? Well, guess what? I recently stumbled upon a cool offer that I think you'd absolutely love. Let me tell you how you can get one too!
Starting from July 31 until September 8, 2023, you can nab a free reusable snack bag by purchasing three awesome products. Now, before you start scratching your head, let me break it down for you. All you have to do is pick up three participating items in one go from this list:
Christie Crispers
Ritz Crackers
Wheat Thins Crackers
Vegetable Thins Crackers
Oreo Cookies
Chips Ahoy! Cookies
Christie Teddy Grahams
Christie Barnum Animal Crackers
Christie Pokemon Snack Paks
Cadbury Chocolate
Cadbury Mini Eggs
Cadbury Mini Bars
Wunderbar Chocolate
Crunchie Chocolate
Jersey Milk Chocolate
Mr. Big Chocolate
Maynards Candy
Sour Patch Kids Candy
A single transaction is all it takes!
Once you've got your hands on those three goodies, make sure to hold onto your receipt. Trust me, this is the golden ticket to unlocking your freebie. Snap a quick photo of your receipt, and then comes the super easy part: submit the receipt. Just remember, you've got until September 22, 2023, to make your move.
Now, the exciting part is waiting for your reward to arrive. If you're eligible (and trust me, it's not rocket science), that free reusable snack bag will be on its way to your mailbox within 4-6 weeks. Can you imagine how handy that bag will be for your on-the-go snacks or lunches?
There are a few ground rules to keep in mind. This offer is limited to one reward per person and residential address. Speaking of which, there are a total of 2,250 rewards up for grabs, so your chances are looking pretty good!
Mark those dates on your calendar, July 31 to September 8, 2023. Keep your eyes peeled for those participating products, capture that receipt, and let the magic unfold. I can't wait to see that awesome free reusable snack bag in your hands soon. Trust me, this is one offer you won't want to miss out on!
Want more free stuff? Check out our Free Samples Page