August 15, 2023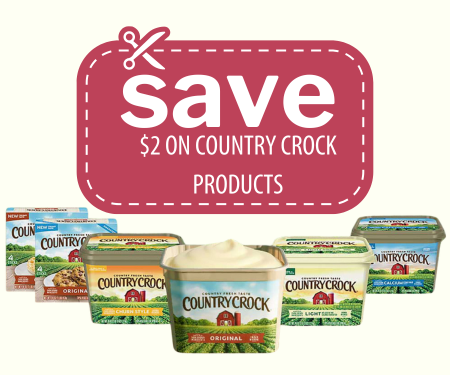 Save $2 on Country Crock + Walmart Deal
Want to score a $2 Discount on Any Country Crock Product? I recently stumbled upon a fantastic offer that I couldn't wait to share with you. It's not often that I get this excited about a deal, but this one is just too good to keep to myself. You won't believe how easy it is to snag a sweet $2 discount on any Country Crock product, plus these products are on sale at Walmart, that is a great deal!
I found this printable coupon that lets you save $2 on any Country Crock product you fancy.  Who wouldn't want to save a couple of bucks while still enjoying their favorite buttery spreads? So, hit that print button, and voila, instant savings! But there is more, if you do print off this coupon be sure to head to Walmart with it this week. Country Crock spread is currently on sale for $2.97 at Walmart, making it just 97 cents with your coupon. This is a little hack to make grocery shopping a tad lighter on the wallet!
You might be wondering if this is some limited-time thing. Well, I checked, and the coupon doesn't have an expiration date plastered all over it. Of course, I wouldn't wait too long to use it, who knows when they might change their minds? But as far as I can tell, this is an ongoing deal, waiting for anyone smart enough to grab it.
There you have it, a little secret to saving $2 on any Country Crock product. If you're planning a trip to the grocery store soon, don't forget to print out that coupon and head to Walmart to snag that sweet deal. Why not share the love? Tell your friends, family, or anyone you know who appreciates a good deal.
Happy saving, and enjoy those buttery spreads!
Want more free stuff? Check out our Free Samples Page