October 1, 2023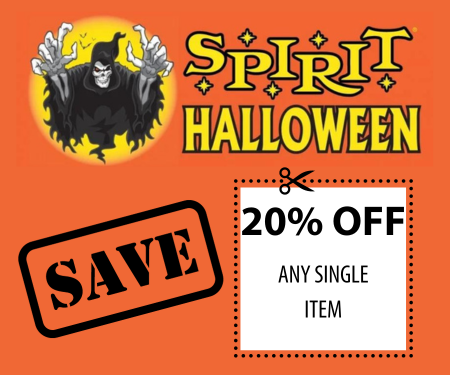 20% Off At Spirit Halloween
How to Get and Use the 20% Off  at Spirit Halloween Coupon
Do you love a good deal? Who doesn't, right? Well, you're in luck! I recently stumbled upon a fantastic offer that can save you a whopping 20% on any single item at Spirit Halloween. In this post, I'll walk you through the simple steps to obtain and utilize this incredible coupon, ensuring you make the most of your Halloween shopping.
How to Get Your 20% Off Spirit Halloween Coupon
To kickstart your coupon journey, head over to the official Spirit Halloween website. It's your hub for all things spooky and fun. You'll find a coupon for 20% off any single item. You can either print your coupon, show it on your phone in-store at checkout, or use the code for online shopping.
How to Use Your Coupon Online
Now that you've got your hands on that golden ticket, let's dive into how to use it effectively.
Browse the Spirit Halloween Store: Start by exploring the vast selection of Halloween costumes, decorations, and accessories at Spirit Halloween. From spooky to silly, they've got it all.
Add Items to Your Cart: Once you've found that perfect item that gives you the Halloween chills (or thrills), click "Add to Cart." You can continue shopping and adding more items if you like.
Proceed to Checkout: When you're ready to complete your purchase, click on the cart icon and then "Checkout." Don't worry; your coupon code will work for a single item.
Apply Your Coupon: On the checkout page, you'll find a field labeled "Coupon Code" or something similar. Paste your 20% off coupon code here and hit "Apply." Your savings will be instantly reflected in your total.
Complete Your Order: After applying the coupon, review your order and make sure everything is as you want it. Once you're satisfied, follow the prompts to enter your payment and shipping information to finalize the purchase.
And there you have it!

You've successfully unlocked the 20% off Spirit Halloween coupon and used it to your advantage.
Remember, Halloween is all about fun and creativity, and saving money on your favorite spooky items only adds to the excitement. So, go ahead and grab your coupon, shop till you drop (figuratively, of course), and have a blast this Halloween season! Happy haunting! 🎃👻
Want more free stuff? Check out our Free Samples Page