October 2, 2023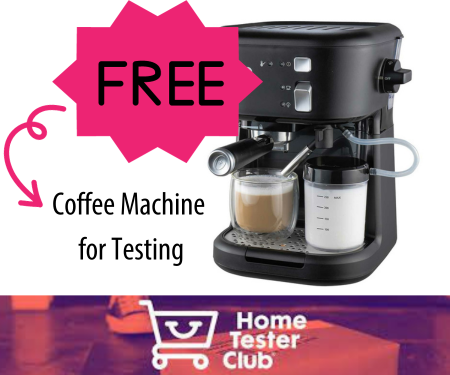 Free Coffee Machine for Testing
Want to get a free coffee machine to test? Are you a coffee enthusiast who dreams of brewing your perfect cup at home? What if I told you there's a way to not only get a coffee machine for free but also share your thoughts about it with the world? It's a genuine opportunity you can seize today. Let's explore how you can take part in this fantastic product review.
Unlocking the Free Coffee Machine
First, let's make it clear that we're not the ones offering this free coffee machine. Instead, it's Home Tester, and they're inviting coffee lovers like you to join their product review program. Here's how you can get started:
Visit Home Tester: Head over to Home Tester's website, where they have a fantastic offer waiting for you.
Create an Account: To participate, you'll need to create an account on Home Tester. It's a straightforward process and won't take much of your time.
Login and Apply: Once you're logged in, you'll find details about the free coffee machine trial. Hit the "Apply" button to express your interest.
Complete a Short Survey: Home Tester may ask you to fill out a brief survey to determine if you're a good fit for this trial. Be honest in your responses – it helps them match the right product with the right people.
If You're Selected: If you're chosen for the trial, you'll receive a free coffee machine. Your mission?


To give it a spin and provide a comprehensive review.
The Excitement of Product Review
Now, let's talk about the exciting part – being selected for the product review. You'll receive either a single-serve coffee machine (compatible with pods) or a combination coffee and espresso machine (for whole-bean coffee).
Your role is simple: enjoy your new coffee machine, put it to the test, and share your honest thoughts about the experience. You'll be helping others make informed choices and discovering the joy of reviewing products firsthand.
A Reminder for Coffee Lovers
Before you rush off to apply for this incredible opportunity, remember that spaces are limited, and not everyone will be selected. However, that shouldn't stop you from trying your luck. After all, the chance to enjoy a free coffee machine and share your insights is too good to pass up.
We're thrilled to share this opportunity with you. It's not about advertising a product; it's about connecting you with a unique chance to explore the world of coffee through product reviews. So, if you're passionate about coffee and curious about these machines, go ahead and apply. Who knows? You might be the next lucky reviewer sipping on a cup of freshly brewed joy from your free coffee machine. Don't miss out on this coffee lover's dream!
Want more free stuff? Check out our Free Samples Page