October 2, 2023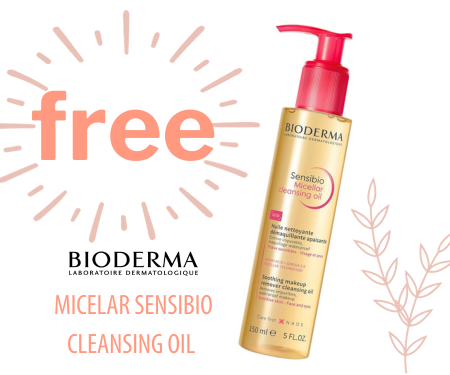 Free Bioderma Sensibio Cleansing Oil
Discover How to Get Your Free Sample of Bioderma's Sensibio Micellar Cleansing Oil"
Are you on the lookout for a gentle and effective makeup remover that's perfect for sensitive skin? Well, you're in luck! Bioderma is offering free samples of their latest innovation – the Sensibio Micellar Cleansing Oil. In this article, we'll walk you through the simple steps to score your own sample of this soothing makeup remover.
Introducing Bioderma's Sensibio Micellar Cleansing Oil
Bioderma, renowned for its skincare expertise, has introduced the Sensibio Micellar Cleansing Oil as the newest addition to its acclaimed Sensibio range. Designed specifically for sensitive skin, this cleansing oil employs micellar technology, acting like a magnet to attract and remove impurities effortlessly. Say goodbye to harsh scrubbing, as it efficiently eliminates dirt and even waterproof makeup. What's more, it leaves your skin feeling not only clean but also soft and wonderfully moisturized.
How to Get Your FREE Sample
Now, let's get down to the exciting part – how you can get your hands on a complimentary sample of Bioderma's Sensibio Micellar Cleansing Oil. Please note that this offer is made available through the brands official social media channels, primarily Facebook and Instagram. Here's how to increase your chances of spotting the ad with the sample:
Open Facebook or Instagram: Fire up your Facebook or Instagram app and search for "Bioderma."
Like Bioderma's Page: If you haven't already, make sure to like the official Bioderma Page on Facebook or Instagram.
Engage with Their Content: Show your interest by engaging with Bioderma's content. Like recent posts, leave thoughtful comments, and interact with their content in meaningful ways. Aim to engage with at least five or more posts to boost your visibility.
Search for Bioderma Sensibio Cleansing Oil: Use the search function on Facebook and Instagram, or even perform an internet search to find content related to "Bioderma Sensibio Cleansing Oil." Interact with the search results to further express your interest.
Visit Bioderma's Website: Visit Bioderma's official website and explore the product.


This action helps algorithms understand your interest in the product and increases the chances of you seeing the ad with the sample.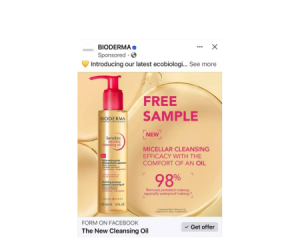 Once you spot the ad with the sample offer, click on the 'GET OFFER' button, and you'll be directed to a form. Simply fill out the form, and that's it! Your free sample of Bioderma's Sensibio Micellar Cleansing Oil will be on its way to your doorstep.
So, get ready to enjoy the benefits of this exceptional makeup remover designed for sensitive skin. Act swiftly to secure your sample, and experience the gentle yet effective cleansing power of this Sensibio Micellar Cleansing Oil. Happy sampling! 🌼💧
Want more free stuff? Check out our Free Samples Page