October 2, 2023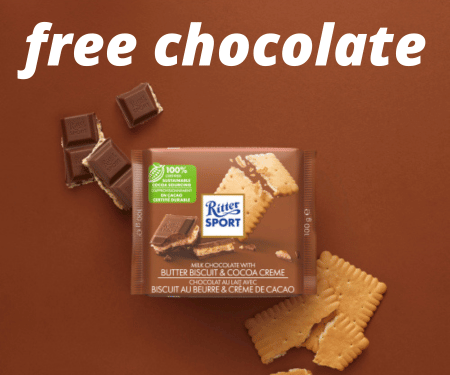 Free Ritter Sport Sustainably Made Chocolate
Indulge Your Sweet Tooth: How to Score a Free Ritter Sport Sustainably Made Chocolate
I stumbled upon something sweet, and I can't wait to share the scoop with you! Ritter Sport Canada is giving away vouchers for a free 100g bar of their delicious Sustainably Made Chocolate. Yes, you heard it right—FREE chocolate!
Now, I know what you're thinking, "What's the catch?" Well, there isn't one. This isn't a promotion from me or my website; it's a genuine opportunity from Ritter Sport Canada.
To get your free voucher, head to the linked page. Once there sign in and submit your details to see if you are eligible. If you are a voucher, redeemable for a free Ritter Sport will be sent to you by mail. You will be able to choose from a mouthwatering selection of flavors, from Milk Whole Hazelnut to Cornflakes. They've got more colors than a rainbow, and each bar is packed with only the best ingredients.
Beyond the freebie, indulging in sustainably made chocolate is a guilt-free pleasure. Supporting brands that prioritize people and nature feels as good as it tastes. So, what are you waiting for? Dive into a world of flavor with free Ritter Sport's Sustainably Made Chocolate. Treat yourself—it's on the house!
Want more free stuff? Check out our Free Samples Page
Remember, this isn't an ad; it's a chocolate lover sharing a sweet discovery. Enjoy your chocolaty adventure!