October 16, 2023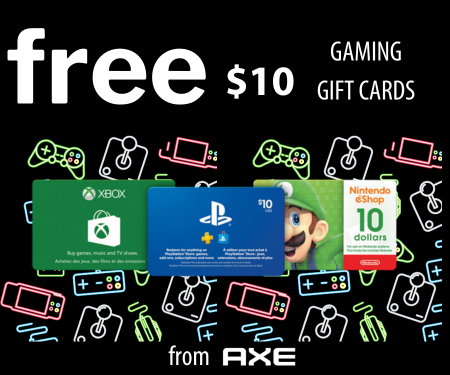 Get a Free $10 Gaming Gift Card from AXE
Get a Free Gaming Gift Card from AXE: A Step-by-Step Guide
Are you a gaming enthusiast always on the lookout for incredible deals? Look no further! I recently stumbled upon an amazing offer that I can't wait to share with you. The best part? It's simply a helpful guide on how you can score a free $10 gaming gift card. All you need to do is buy three AXE products and follow these straightforward steps.
Purchase Three AXE Products: Start by buying any three AXE products of your choice. Whether it's deodorant, body wash, or even haircare items, you have the freedom to pick what suits you best.
Fill Out the Form: After your AXE shopping spree, visit the AXE website, and locate the submission form. You'll need to provide some basic information, including your name, email address, and perhaps your location, depending on the promotion's terms.
Snap and Upload Your Receipt: This is where things get interesting! After filling out the form, take a snapshot of your purchase receipt. Make sure it's clear and that all the essential details are visible. This typically includes the purchase date, the AXE products you bought, and the store's name.
Submit Your Receipt: Once you have a clear snapshot of your receipt, upload it through the website's submission portal.


Make sure to double-check that the image is clear, and all necessary details are legible.
Receive Your Free Gaming Gift Card: After you've submitted your receipt, all that's left to do is wait. In a short time, you'll receive your free $10 gaming gift card, which you can redeem on your favorite gaming platform or for in-game purchases.
This is a fantastic opportunity to enjoy some gaming goodness without breaking the bank. So, if you're a gamer on a budget or just someone looking for an excellent deal, give this offer a try. Follow these simple steps, and before you know it, you'll have a gaming gift card in your hands, ready to fuel your gaming adventures. Enjoy!
Want more free stuff? Check out our Free Samples Page