October 16, 2023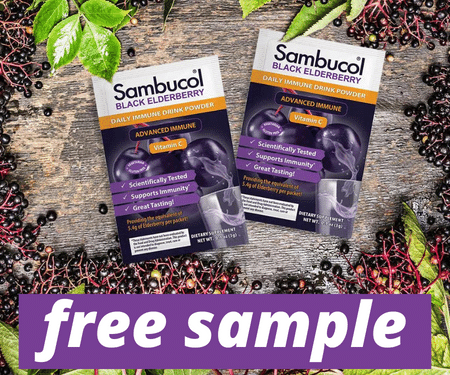 Free Sambucol Black Elderberry Review
Get a Free Sambucol Black Elderberry by participating in this Product Review Opportunity! Discovering free product review opportunities can be an exciting way to try out new products and share your thoughts with others. I will explain how you can potentially take part in a product review of Sambucol Black Elderberry products, including the Sambucol Immunity + Cold and Flu Relief Gummies and the Sambucol Immunity Cold & Flu Relief Powdered Drink. It's not us or our website offering this opportunity, but we're here to guide you on how to get involved.
Sambucol offers a range of immune-boosting products designed to support your family's health. The two featured products in this review opportunity are:
Sambucol Immunity + Cold and Flu Relief Gummies: These delicious gummies are packed with immune-boosting ingredients, including Black Elderberries, Vitamin C, and Zinc. They can be taken daily or when you're feeling under the weather, helping fight the symptoms of colds and flu.
Sambucol Immunity Cold & Flu Relief Powdered Drink: This is a new and convenient way to support your immune system. The powdered drink, made with Black Elderberries and Vitamin C, offers a delightful berry taste that your whole family will love. Simply pour it into your water bottle and you're good to go.
Both of these Sambucol products have some fantastic qualities:
Great Taste: Sambucol products are not just effective, but also delicious, making them a hit with both kids and adults.
Perfect for On-the-Go: Whether you're packing lunch, traveling, or heading to the office, these products are convenient and easy to take with you.
Suitable for Ages 3+: Sambucol products are safe for the whole family, starting from age 3 and up.
All-Natural: You can enjoy these products with peace of mind, knowing they are made with all-natural ingredients.
Daily or When Sick: You can use these products daily for immune support or when you're not feeling your best to relieve cold and flu symptoms.
How to Get Involved:
To take part in this exciting product review opportunity, follow these steps:
Visit Butterly's Website: Head over to Butterly's website, where this product review opportunity is being offered.
Fill Out the Application Form: You'll find a short application form on their website. Complete it with your details to be considered for the opportunity.
Wait for Contact: If you're selected, Butterly will contact you by email within 1-2 weeks with further instructions.
Please note that this opportunity is open to residents of Canada only.
Exploring opportunities like this Sambucol product review is a fantastic way to discover new products and share your experiences with a wider audience. You'll get to try out some exceptional Sambucol products, and others can benefit from your insights. So, take the first step by filling out the application form, and who knows, you might soon be sharing your thoughts on these immune-boosting goodies!
Want more free stuff? Check out our Free Samples Page