October 17, 2023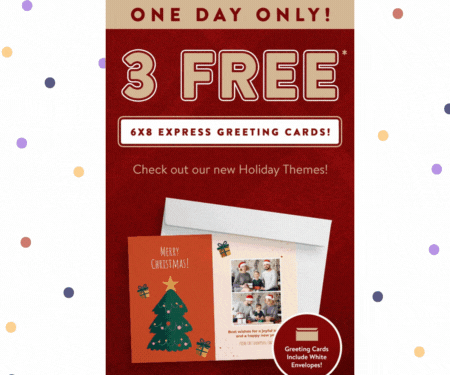 Get 3 Free Greeting Cards – Today Only
Spread Joy with 3 Free Greeting Cards: Limited Time Offer!
Hey there, card enthusiasts! 🌟 I've stumbled upon a fantastic opportunity that's bound to add a sprinkle of happiness to your day. In particular, imagine receiving 3 Free Greeting Cards! And no, it's not a drill.
📸 Photo Magic: Choose up to 4 of your favorite photos to adorn your cards. It's like creating a mini gallery of memories that your loved ones will indeed cherish.
🎨 Design Freedom: Dive into a world of professionally designed themes, fully customizable to suit your style. From whimsical to elegant, of course, there's a theme for every occasion.
💌 Quality You Can Feel: These aren't your average cards. Printed on professional photo paper and single-sided, each card is a tangible expression of your thoughtfulness. Plus, white envelopes are included—because details matter.
Head to the linked page to kickstart your creative journey. This is a one-time use per account, so make it count! The 3 Free Greeting Cards promotion will be automatically applied in your cart. No need to fumble with codes—just pure, simple joy. This offer is like a shooting star—here today, gone tomorrow. The magic ends on October 17 at 11:59 pm EST, so don't let it slip away.
Whether it's a birthday, anniversary, or just a random act of kindness, these free greeting cards are your canvas to spread love and joy. Customize away and make someone's day a little brighter. Ready to dive into the world of heartfelt greetings? Start creating your 3 Free Greeting Cards now!
Want more free stuff? Check out our Free Samples Page
Let the joy-spreading commence!