October 17, 2023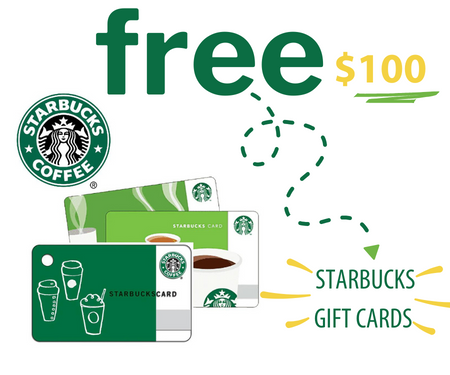 240 Free $100 Starbucks Gift Cards to Giveaway
A Coffee Lover's Dream: How to Win a Starbucks Gift Card
Hey, coffee aficionados! I've got some exciting news to share, and it's not just about a chance to enjoy your favorite Starbucks brew. I recently discovered a fantastic opportunity, and I can't wait to tell you how you can be a part of it too. It's not about me or my website giving away this prize; it's about helping you score a $100 Starbucks Gift Card. Here's how it's done.
Are you a Starbucks enthusiast? If so, this giveaway is tailor-made for you. It's your shot at winning a $100 Starbucks Gift Card and participating is as easy as sipping a latte.
Here's how you can join in on the fun:
Fill in the Required Information: Complete the form on the Starbucks Customer Experience Sweepstakes page. It's a straightforward process that won't take much of your time.
One Entry per Month: You can submit one entry per month, regardless of the entry method. So, if you miss out one month, don't worry; there's always another chance just around the corner.
Ends on 9/30/24: While you have multiple opportunities to participate, don't forget that this sweepstakes ends on September 30, 2024. Mark your calendar and make sure you don't miss out!
If you're eager to increase your chances of winning that $100 Starbucks Gift Card, here's a quick tip, don't miss a month. Consistency can be key in sweepstakes like this, so set a reminder to enter every month.
So, if you're a devoted coffee lover or just someone who enjoys the occasional Starbucks visit, why not try your luck?

Join the Starbucks Customer Experience Sweepstakes, and who knows, your next coffee run might just be on the house. Cheers to free coffee and happy days!
Want more free stuff? Check out our Free Samples Page