October 17, 2023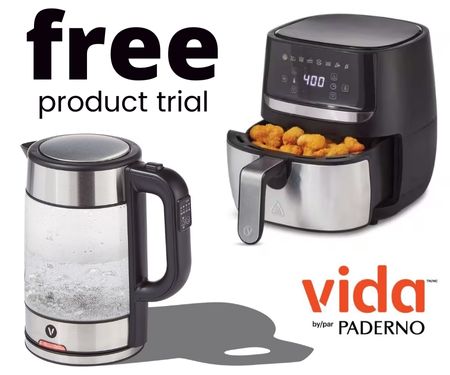 Get PADERNO® Kitchenware for Free
Unlock Culinary Bliss: Test & Review PADERNO® Kitchenware for Free!
Hey fellow foodies! 🍽️ Ready to elevate your kitchen game without spending a dime? We've got the inside scoop on a fantastic opportunity to test and review top-notch PADERNO® Kitchenware for Free.
🔥 PADERNO® Stainless Steel Clad Wok (32 cm): Stir-fry like a pro with this Canadian-made wok. Non-reactive, oven-safe, and built for superior heat conduction.
🍲 PADERNO® Classic Non-Stick 10 quart Stock Pot: A kitchen essential with a PFOA-free non-stick interior and a sturdy stainless steel induction plate. Soup season, we're ready!
🔪 PADERNO® Montgomery Carving Fork & Knife: Slice through festivities with professional-grade stainless steel. The fork is perfect for holiday roasts, and the knife makes carving a breeze.
🌀 PADERNO® Variable Speed Immersion Blender: Blend, chop, and whisk with precision using this 400-watt powerhouse. Designed in Canada for kitchen enthusiasts like you.
🍵 Vida by PADERNO® 1.7L Variable Temperature Glass Kettle: Boil water with ease using this kettle with temperature presets and LED lights. An elegant addition to your kitchen.
🍟 Vida by PADERNO® 9-in-1 Stainless Steel Digital Air Fryer: Make air frying a part of your routine with this versatile kitchen companion. Cook with confidence using the digital display and pre-sets.
🌱 Vida by PADERNO® Reusable Silicone Sandwich Bag: Embrace eco-friendly alternatives with this durable, versatile, and reusable silicone sandwich bag. A small switch for a big impact.
🍲 Vida by PADERNO® 20-pc Plastic Food Storage Set: Keep your leftovers fresh with these stain-resistant, odour-resistant, and leakproof containers. Your fridge will thank you.
How to Join the Culinary Adventure:
Ready to spice up your kitchen with PADERNO® Kitchenware for Free? Complete the short survey on the page linked below. Your culinary journey is just a click away. This exclusive opportunity is open until October 20, 2023. Act fast and be part of the kitchen revolution!
Want more free stuff? Check out our Free Samples Page
Which kitchen marvel are you most excited about? Good luck, and may your kitchen be filled with joy and flavorful experiments! 🎉