October 20, 2023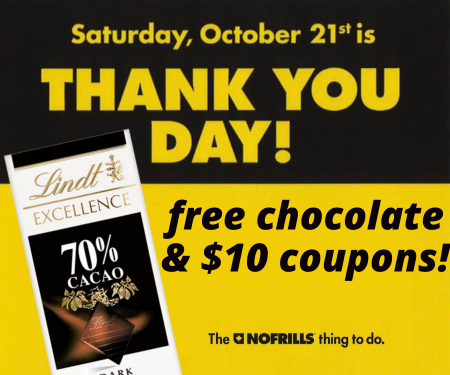 Free Lindt Bar and $10 Off Coupons at No Frills
Unlocking No Frills' Thank You Day Bonanza: There's Free Lindt Bars and $10 Off Coupons!
Guess what? No Frills is celebrating Thank You Day on October 21, and they're turning the gratitude up a notch. Here's the scoop on how you can score some unexpected goodies like a free Lindt Bar or $10 off coupons without breaking a sweat.
Why October 21? It's Thank You Day!
No Frills values you every day, but on Thank You Day, they're going all out. Picture this: their fantastic team spreading joy by handing out random gifts to customers. Coupons, delicious treats, and more are up for grabs!
Be among the first 100 customers, and you'll snag a sweet $10 Off Coupon. Imagine the savings! But that's not all— the first 300 customers get a bonus treat of Free Lindt Excellence Bars. Delightful, right?
How to Join the Fun?
It's simple. Just swing by your local No Frills on October 21, keep an eye out for those friendly staff members, and let the gratitude flow. Check your local flyer for additional details, and get ready for a day of surprises.
No catches, no strings attached—just a store saying a big 'Thank You' in the most delightful way possible.
Want more free stuff? Check out our Free Samples Page
So, mark your calendar, set a reminder, and get ready to be part of No Frills' Thank You Day extravaganza! 🎉