October 20, 2023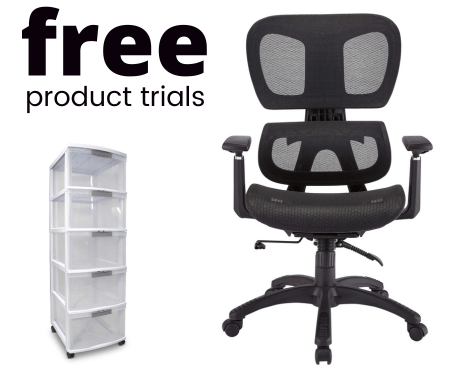 Free Customizable Office Chair
Unlocking Home Essentials: Your Chance for a Free Customizable Office Chair from For Living and Type A Product Review!
Canadian Tire is our go-to haven for all things essential, and this week, we've got an exciting opportunity for you to dive into the world of For Living and Type A brands. Picture this: a cozy Free Customizable Office Chair that molds to your comfort, an over-the-door organic waste bin that's a multitasking marvel, and a 5-drawer storage tower organizer that's both chic and functional.
But here's the kicker—this isn't about us offering you these goodies. It's about you getting them for free! 🌟
How, you ask?
Simple. We've stumbled upon an exclusive product review opportunity, and we want you to be a part of it. No catch, no gimmicks—just genuine home essentials waiting for your honest feedback.
Here's the lowdown on the featured gems:
For Living Customizable Office Chair: Your ticket to comfort with a breathable mesh back, adjustable lumbar support, and a gas lift for the ultimate customization. Work never felt this good!
Type A Over-the-Door Multipurpose Organic Waste Bin: Mount it, hang it, and love it! Perfect for organic waste or as a sleek storage solution. The handle adds a dash of convenience to its charm.
Type A 5-Drawer Storage Tower Organizer: Stackable, modular, and oh-so-stylish. Move it around effortlessly with the wheels and stash away toys, bathroom essentials, or your artsy supplies.
How to snag this opportunity?
Just breeze through a quick survey below, and voila! Your shot at these home essentials, including the Free Customizable Office Chair, is open until October 22, 2023.

Exclusive to our fellow Canadians.
Want more free stuff? Check out our Free Samples Page
Good luck, and here's to making your home a haven of For Living and Type A brilliance! 🏡✨