October 20, 2023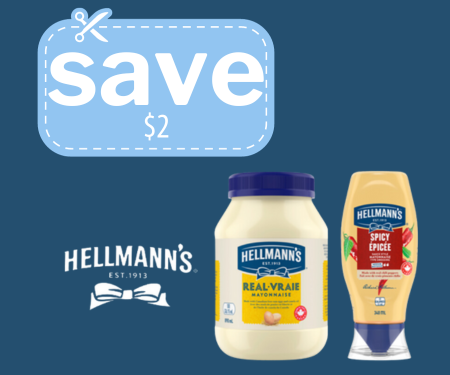 Save $2 on any Hellmann's Product
Want to know how to save $2 with a Hellmann's Product Coupon? Coupons are a great way to save money on your everyday purchases. One coupon that has been making waves recently is the $2 off coupon for any Hellmann's product. I'll explain how I got my hands on this money-saving gem and how you can do the same without any hassle. So, let's dive right in!
Getting the Coupon:
Getting your hands on the $2 Hellmann's coupon is a breeze. Here's a step-by-step guide to help you out. Click and Print: Click on the coupon offer to select it. Then, simply hit the "Print" button. The coupon will be sent to your printer, and ready for use.
Walmart is currently offering Hellmann's mayo at a discounted price of $2.97. By applying a $2.00 coupon, you can snag it for just $0.97. Additionally, consider checking if you can price match at No Frills and other eligible stores. Happy savings!
Using the Coupon:
Now that you've got your $2 off Hellmann's coupon, let's talk about how to make the most of it:
Choose Your Hellmann's Product: Head to your local store and select your favorite Hellmann's product. Whether it's their famous mayonnaise, a delicious salad dressing, or any other item from their lineup, the choice is yours.
Present the Coupon: When you're at the checkout counter, hand over the printed coupon to the cashier. They will apply the $2 discount to your purchase.
Enjoy Your Savings: Voilà! You've successfully saved $2 on your Hellmann's purchase. Now you can enjoy the same great taste for less.
Cashback Option:
If you prefer to shop online or want to maximize your savings, some retailers offer a cashback option for Hellmann's products. Here's how it works:
Purchase Hellmann's Product: Buy your preferred Hellmann's product from an eligible retailer.
Keep Your Receipt: Make sure to keep your purchase receipt handy.
Submit for Cashback: Visit the designated cashback platform and submit a photo or scan your receipt.
Receive Your Cashback: After verifying your purchase, you'll receive $2 cashback directly into your account.
Saving money with coupons can be a rewarding experience, and the $2 off Hellmann's coupon is no exception. By following the simple steps outlined in this article, you can quickly obtain and redeem your coupon to enjoy delicious Hellmann's products while keeping more money in your pocket. Happy saving!
Want more free stuff? Check out our Free Samples Page