October 19, 2023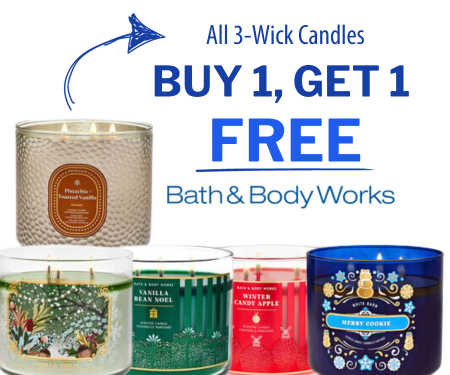 Buy 1, Get 1 Free 3-Wick Candles at Bath & Body Works
If you're a fan of delightful scents and cozy vibes, you're in for a treat. Bath and Body Works has rolled out a fantastic deal that I recently discovered, and I'm excited to share it with you. All 3-wick candles are now on a buy 1, get 1 free promotion, available both in-store and online until October 22, 2023.
How to Get Your Buy One, Get One Free 3-Wick Candles:
Bath and Body Works has made it incredibly easy for you to score this deal. Here's how:
1. Visit a Bath and Body Works Store:
If you prefer the in-store experience, head to your nearest Bath and Body Works location. You'll be welcomed by a stunning array of 3-wick candles in a variety of scents.
2. Explore the Scents:
Take your time to explore the scents on offer. With a wide range to choose from, you're sure to find fragrances that match your preferences and set the perfect ambiance for your space.
3. Mix and Match:
Here's where the magic happens. Select any 3-wick candle of your choice, and you'll automatically get a second one for free. Yes, you read that right!

Mix and match different scents to create a dynamic and delightful atmosphere at home. This buy 1, get 1 free promotion is fantastic!
4. Online Shopping:
Prefer shopping from the comfort of your own home? No worries, Bath and Body Works has you covered. Visit their website and browse through their collection of 3-wick candles.
5. Add to Cart:
As you find the candles that catch your eye, simply add them to your online cart. The system will automatically apply the buy one, get one free promotion at checkout.
This isn't just about candles; it's about transforming your space into a fragrant paradise. Bath and Body Works is renowned for its high-quality scents, and this deal allows you to indulge in your favorite fragrances without breaking the bank.
Here's a quick tip to make the most of this offer, use this opportunity to try scents you haven't experienced before. Who knows, you might discover a new favorite!
So, whether you're looking to create a cozy ambiance, trying to find the perfect gift, or just want to stock up on your favorite scents, don't miss this incredible deal. Head to Bath and Body Works in-store or shop online before October 22, 2023, and elevate your space with an array of enchanting 3-wick candles. Enjoy the delightful aromas!
Want more free stuff? Check out our Free Samples Page