September 26, 2023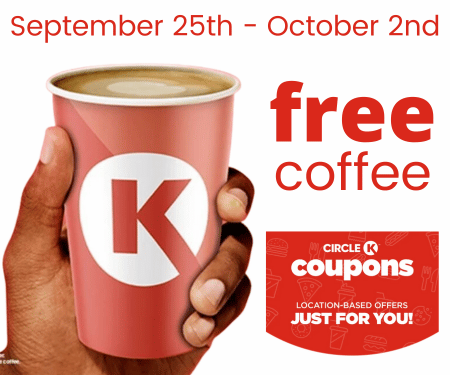 Free Coffee at Circle K
Score Free Coffee at Circle K: Here's How to Get a Cup
Do you have a soft spot for a steaming cup of coffee? Well, get ready to perk up because we've got some exciting news for you! Circle K is serving up free coffee to celebrate National and International Coffee Days. If you're in Canada, you're in for a treat.
A Brew-tiful Offer: One Free Cup of Coffee, Any Size
From September 25th through October 2nd, Circle K is giving away one free coffee to customers. Yes, you read that right – a complimentary cup of joe, any size you fancy. And here's the best part: it's available in-store at Circle K locations across Canada. But how can you claim this caffeine-infused delight for yourself?
Circle K has introduced a brand-new and exclusive coupon platform to make this offer possible. Whether you're a loyal Circle K customer or just looking for a quick pick-me-up, you're invited to partake in this coffee celebration. To get your free coffee, head to the linked page and fill out your details – Circle K will send the coupon to your phone.
So, whether you're a coffee connoisseur or just someone in need of a caffeine boost, don't miss out on this fantastic offer from Circle K. It's not an advertisement; it's an invitation to enjoy a cup of coffee on the house. National and International Coffee Days are the perfect times to savor a delicious brew, and Circle K is making it possible for you to do just that.
Want more free stuff?

Check out our Free Samples Page

Head to your nearest Circle K store in Canada with your free coffee coupon, and let the coffee celebration begin! Happy sipping! 😊☕