September 27, 2023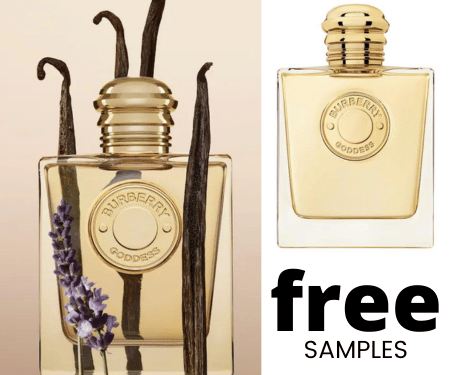 Free Sample of Burberry Goddess Eau de Parfum
Exploring a Free Product Review Opportunity with Burberry Goddess Eau de Parfum
Are you a fragrance enthusiast who loves trying out new scents? If so, we've got some exciting news for you! We've recently stumbled upon a fantastic opportunity to get a free sample of Burberry Goddess Eau de Parfum. And the best part? It's not a promotion from us; it's from Burberry!
First try getting your free sample of Burberry Goddess through this direct link. They are always going up and down, so if it says sold out, it will likely be back soon. I simply followed the steps below and got my sample later in the day.
Step 1: Like/Follow Burberry on Social Media
Burberry is all about building a community, and social media is where it's happening. Start your journey by liking or following Burberry on your favorite platforms like Facebook and Instagram. This is your first step towardS a free sample of Burberry Goddess.
Step 2: Explore Burberry Website
Head over to Burberry's website and take a deep dive into their products. Engage with their content, check out their offerings, and get familiar with what they have in store. Your interaction with their website is crucial and shows your genuine interest.
Step 3: Immerse Yourself in Burberry's Social Media World
Now, let's get social!

Explore Burberry's social media profiles. Dive into their posts, photos, videos, and all the amazing content they share. The more engaged you are with their social media presence, the better your chances of being selected for the free sample of Burberry Goddess.
Step 4: Keep an Eye Out for Opportunities
Stay vigilant while scrolling through your social media feed. Look out for sponsored posts similar to the one in the image below. When you spot one, follow the steps mentioned to claim your free sample of Burberry Goddess Eau de Parfum.
Burberry Goddess Eau de Parfum offers a unique scent for confident women. With top notes of Vanilla, Sweet Vanilla, Wood, and Lavender, it promises a depth of fragrance that's truly captivating. So, what are you waiting for? Keep an eye out for sponsored posts that look like the one in the image below, and follow the steps above to claim your free sample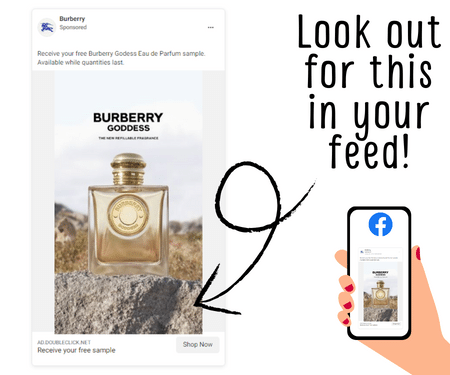 Want more free stuff? Check out our Free Samples Page
Remember, this isn't a promotional piece – it's an opportunity we wanted to share with our community of fragrance enthusiasts. Dive into Burberry's world, engage with them, and let your love for scents shine through!