March 29, 2023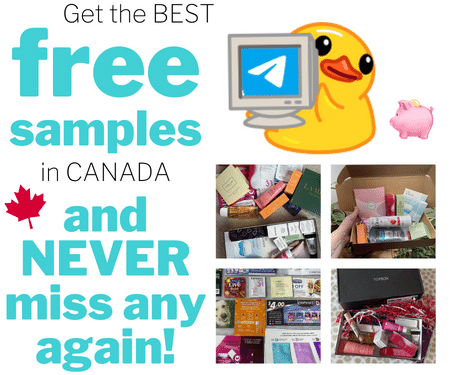 Exciting news: get the best free samples in Canada and never miss one again. All you need to do is join the Free.ca Telegram channel. By doing so, you can get real time notifications for free samples! I'm super excited, this is going to be a really fun way to keep up to date and get all the free samples as they happen! We recently asked what we could do better and many people said the samples are gone by the time they find out about them. This solves that problem! All you need to do is follow the Free.ca Telegram channel. And just so you know, this is not like a group chat.

Have you tried Telegram before? Yes - perfect, you are all set. Click here to access the channel now.

If not, don't hesitate. Telegram is a really popular messaging platform that's going to help me to share deals quickly and efficiently. You can choose to be notified and never miss a deal, or you can explore our channel and discover deals at your leisure. Telegram is a free app that you can use on your phone or desktop. There is no cost involved in this.
"Why do I need Telegram if I get your newsletter?"
You might be wondering, why should I do this. The truth is, it's up to you. I want to try a way to tell you about the best free samples in Canada as they happen and that means
fast
. Samples can run out quickly and I got feedback that some of you were missing out. I want to solve that problem. Nothing is going to change with the email, I'll still be sending as usual with all the best samples I find. However, sometimes a free sample happens at 4:00 in the afternoon and I have already sent the newsletter. I want to tell you about it, but I don't want to be emailing multiple times a day. With Telegram, you'll get a notification that there is a sample and never miss out.
I get it, downloading a new app and figuring it out can be daunting. However, I know that Telegram is a perfect fit to deliver you free sample offers fast, so I think you should give me and Telegram chance.
To get started with Telegram, follow these steps:
Download the Telegram app on your smartphone or desktop.
Set up and install the app.
Click here to JOIN our Free.ca Telegram channel.
Turn on notifications in the app if you want to receive push notifications when we post a new deal!
If the link above doesn't work, you can download Telegram
HERE
.