August 17, 2023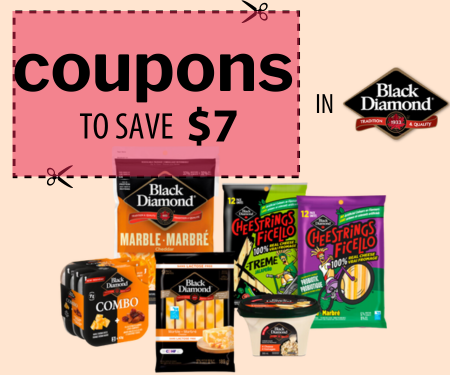 $7 in Black Diamond Cheese Coupons
Want to unlock up to $7  in savings on Black Diamond Cheese? Guess what? I just uncovered a secret stash of savings that I couldn't wait to share with you. Imagine slashing up to $7 off Black Diamond Cheese products with these coupons. That sounds like a deal, right? Let me walk you through how you can unlock these awesome coupons.
These coupons are like golden tickets to cheese heaven. The best part is that they're not hiding behind any complicated hoops to jump through. All you need to do is snag these limited-edition coupons and you're on your way to enjoying some fantastic savings. The first thing you'll want to do is print these money-saving coupons – yeah, you heard me right, print them! It's like printing cash but for cheese. And trust me, this part is a breeze.
But here's the thing, they're available on a first-come, first-served basis. So, if you want to make sure you don't miss out, I'd suggest getting your hands on these Black Diamond Cheese coupons sooner rather than later. After all, who doesn't love a good cheese bargain?
Oh, and did I mention you can save up to $7? I mean, that's like getting paid to enjoy your favorite cheese. Whether you're into creamy cheddar, rich mozzarella, or any other delightful variety Black Diamond offers, these coupons have got you covered.
So there you have it – the cheese-saving scoop! It's like a little gift from the universe to make your cheese dreams come true. Don't wait too long, though. Print those coupons, embrace the cheese adventure, and let's savor those tasty savings together!
Want more free stuff? Check out our Free Samples Page