July 31, 2023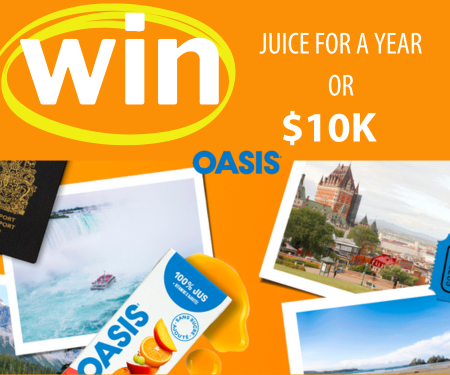 Win Free Juice For A Year or $10K
Want to win free juice for a year or $10k? I just had to share this incredible contest with you that's too good to miss! You know how much I love traveling and staying refreshed with delicious juices, right? Well, brace yourself, because you have a chance to win free juice for a year or even $10k in travel credit! It's like a dream come true, and I couldn't wait to tell you all about it.
There's this fantastic contest from Oasis, and they're offering some mind-blowing prizes, all you need to do is enter the contest, and you could be one of the lucky winners!
Let's talk about the grand prize – the one that could have you traveling to your dream destinations without worrying about expenses. The 1st prize is a whopping $10,000 in travel credit! Imagine the adventures you could embark on with that kind of money. But wait, there's more! The 2nd prize is equally incredible – $5,000 in travel credit. That's still a substantial amount to plan a fantastic trip or even multiple getaways to unwind and create memories that'll last a lifetime.
Now, if you're like me and appreciate the goodness of refreshing juices, then brace yourself for the 3rd prize. Oasis is offering five lucky winners a whole year of free Oasis juice!

Can you imagine having a year's supply of your favorite juice at your fingertips?
Entering the contest is as easy as pie. Just complete the contest form, that's it! The contest is open until September 28, 2023, so there's still plenty of time to participate and spread the word to your friends and family.
Want more free stuff? Check out our Free Samples Page