Top Fast Food Deals in Canada: January 2019
January 4, 2019, BY Brittany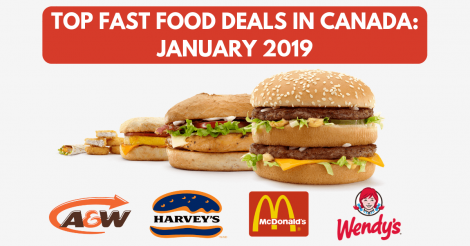 It's a new year, full of new savings! Canada's top fast food restaurants including McDonald's, Harvey's, A&W and others are currently running special promotions for the month of January. We've compiled this list of the top fast food deals in Canada for January 2019. Check them out and share them with your friends and family to spread the savings!
McDonald's
McDonald's has released many free coupons you can print or redeem on your smartphone. The coupons include 2 can dine for $11.78, 1 can dine for $6.29, buy one get one free sandwiches, and more. See more details and get your coupons here.
Harvey's
Harvey's has 2 new offers for the month of January. The first promotion is 2 for $3 junior burgers, there is no coupon necessary to claim this offer.
The second offer is for a free pop with purchase of an original burger. Get both for double the savings!
A&W
Like Harvey's, A&W has released 2 great new promotions. First, they have released multiple printable coupons including one coupon for a free root beer! Learn more and get your coupons here.
The second A&W offer is for a $2.99 Mama Burger with real cheese. Like the Harvey's 2 for $3 offer, there is no coupon required for this deal. Simply show up to your nearest A&W location to claim it. Learn more about this promotion here.
Wendy's
If you love Wendy's burgers, you're going to love this offer! Wendy's is currently offering their Dave's Single burger for only $3! Once again, there is no coupon required, you simply have to show up, order the burger, and enjoy the savings. Click here for more details!
Mary Brown's
Last but certainly not least, Mary Brown's has released a coupon for the month of January. Claim your printable coupon today and get a Mini Mary Sandwich, small taters, and a can of pop for only $5.99. Get your printable coupon here.
Do you know any other great fast food promotions for the month of January? Share them with us in the comments below!
KFC
KFC has released 19 free printable coupons that are good until the month of March! There are 2 can dine deals, family meal deals, and more up for grabs. Claim your free coupons here!
Taco Bell
Taco Bell has released a printable coupon that is good until the end of February. The coupon is for a Naked Chicken Chalupa and 2 Cinnabon Delights for only $6! Get your coupon here.