McDonalds Coupons: Get Them For Savings & Freebies
December 28, 2018, BY Brittany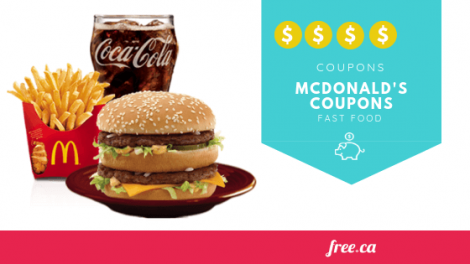 McDonalds coupons are some of the most popular and sought after coupons on our site. In this post, we break down how to get, how to use them, and special money-saving tricks that not everyone knows!
Are There McDonalds Coupons?
Yes, McDonald's releases and accepts coupons! The best part is that they release numerous different forms of coupons, both print and digital, so you can save big in different ways.
How Do I Get McDonald's Canada Coupons?
There are several different popular coupon options available for customers:

Mailer/online coupons
My McD's App offers
McCafe Rewards
Mailer/Online Coupons
These are the most popular free McDonalds coupons and if you're lucky you'll get these mailed right to your mailbox!
Every few months, McDonald's releases a new package of mailer coupons that contain many different coupons for different meals, snacks, and combinations.

While the specific offers change with every new coupon release, the most common ones are:

Buy one get one free Big Macs, McNuggets, McChickens
2 can dine meal deals (Big Mac Meals, McNugget Meals, McChicken Meals, and more)
1 can dine meal deals (Big Mac Meals, McNugget Meals, McChicken Meals, and more)
If there are limited time specials, they are often included in the coupons as well.

Many people get these mailed for free right to their homes, but they also post them for free online for those who did not! You simply need to select your province and claim the coupons. McDonald's will accept them whether you show them on your phone or print them out.

Unfortunately, there are currently no mailer coupons available. However, we post them every time they become available and will be sure to post them as soon as they are available!

My McD's App Offers
If you really love McDonald's, you'll want to download the My McD's app for your smartphone! The app has special offers and freebies only for app users.

The offers will vary based on your location in the country, but the offers are usually for free fries or drinks with purchase, BOGO free food items, and more.

You can also do Mobile Ordering through the app, and even pick up your food in 4 different ways, choose from curbside delivery, table service, front counter pick up, or drive-thru.

McCafe Rewards
Do you love McCafe coffee and hot beverages? If so, this is the rewards program for you. McDonald's has a rewards program where you'll get a free hot beverage for every 7 you purchase.

There are a few ways to collect rewards:

By sticker
Through the My McD's app
By Sticker
You can start collecting points by purchasing any hot beverage and peeling the Rewards card off the cup. You'll get a sticker for every purchase you make and you can place them on the rewards card. After 7, you'll get a free drink.
My McD's App
If you prefer to go digital, you'll also be able to earn rewards through the My McD's app.

Bonus: $1 McCafe Coffee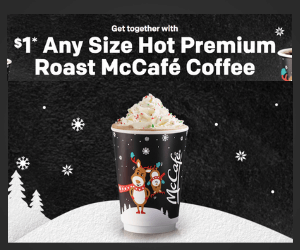 It's not a coupon, but McDonald's Canada is currently offering $1 any size McCafe coffee from now until March 3rd.
Starbucks Rewards
If you are interested in the McCafe Rewards loyalty program, you'll also want to check out the Starbucks Rewards app. It also offers the option to pay through the app, mobile ordering, exclusive, offers, and freebies!
More Free Fast Food Coupons
Want more offers like McDonalds coupons? Check out these other great coupons on the site: