September 7, 2023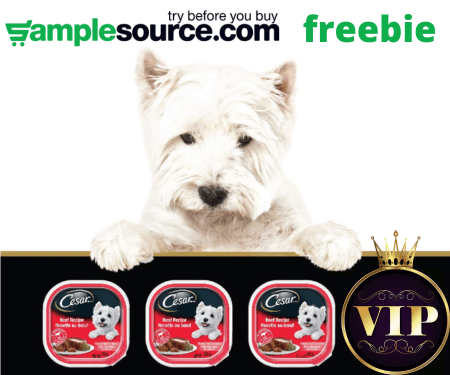 VIP Offer: Free CESAR Wet Dog Food Sample
How to Get Your Paws on a Free CESAR Wet Dog Food Sample
Today, I have some exciting news to share with you all, and no, it's not your typical product review. It's an opportunity for you to try out CESAR Wet Dog Food for free! Yes, you read that right – free doggy deliciousness.
CESAR Wet Dog Food is all about delighting your furry friends with premium wet dog food. It's not just any dog food; it's fortified with vitamins and minerals to keep your pup energetic and ready for all their adventures. You might be wondering how you can get in on this free CESAR Wet Dog Food sample action. Well, it's straightforward! Your inbox holds the key. In other words, if you're one of the chosen ones, keep an eye out for that email notification. It's your golden ticket to give your pet a taste of CESAR, without spending a dime.
Don't have a SampleSource account yet?
No worries, this could be the perfect moment to join the pet-loving party. A quick note of reality to clarify: Not every pet parent is selected as a SampleSource VIP. By logging into your account, you're showing your active interest.

Even if the stars aren't aligned this time, you're still on the radar for future opportunities. Who knows, next time could be your moment to shine. Best of luck!
Want more free stuff? Check out our Free Samples Page
So, if you want to see your pup's tail wagging with joy, don't miss out on this chance. Head over to the VIP member offer page, log in, and see if you are able to request a free CESAR Wet Dog Food sample today. Your four-legged friend will thank you for it!