August 30, 2023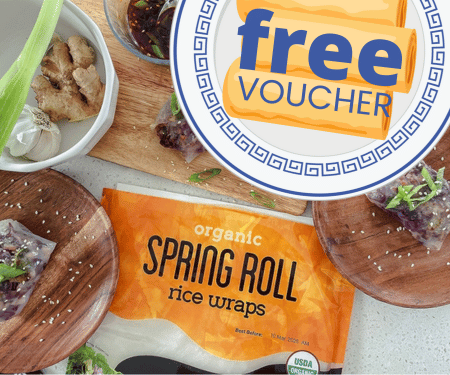 Free Ocean's Halo Spring Roll Wraps
Unwrap the Flavor: Get Your FREE Ocean's Halo Spring Roll Wraps!
Guess what I stumbled upon? A way to get your hands on a FREE pack of Ocean's Halo Spring Roll Wraps. Yep, you read that right – FREE. If you're a fan of delicious Asian-inspired dishes and love creating your own culinary delights, this is something you won't want to miss.
Imagine crafting your very own spring rolls with the freshest veggies, thanks to Ocean's Halo Rice Paper Wraps. They're giving away a voucher for a FREE pack of 12 Spring Roll Wraps, each weighing 4.2oz (120g). That's a whole lot of potential for mouthwatering creations right in the comfort of your kitchen.
Now, I know you might be wondering what the catch is, but here's the deal: I found out that all you need to do is grab your voucher and follow the easy steps to redeem it. It's not me or my website that's hosting this giveaway – I'm just here to share the excitement with you.
Creating your own spring rolls has never been this convenient. Ocean's Halo Spring Roll Wraps are Certified Organic by QAI and certified vegan, so you can feel good about the choices you're making. And if you're gluten-free, guess what? These wraps are made with gluten-free ingredients. But here's the exciting part: you don't have to stick to the traditional path. Try adding your favorite toppings, roll them up, and give frying a shot. Crispy spring rolls right at home? Yes, please!
Want more free stuff? Check out our Free Samples Page
So, why wait? Seize this opportunity to bring a burst of flavor to your kitchen. Go ahead and snag your voucher, and then it's as easy as soak, wrap, and enjoy!