October 13, 2023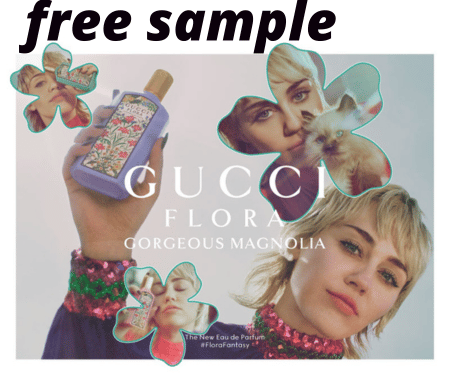 Free Gucci Flora Sample
Unlock a Whiff of Luxury: How to Snag Your Free Gucci Flora Sample!
I've got the scoop on a little luxury that you don't want to miss out on. Imagine, getting your hands on a sample of Gucci Flora Gorgeous Magnolia Eau de Parfum for free! It's not a dream; it's a reality, and I'm here to guide you on how to make it yours. This enchanting fragrance is a symphony of Magnolia Essence, Dewberries Accord, and Patchouli Essence. It's a radiant blend that promises to captivate your senses.
How to Claim Your Free Sample:

It's as easy as filling out a simple form. No catches, just a touch of luxury on its way to your doorstep. But hey, act fast—it's only available while supplies last, and there's a limit of one per household. This offer is exclusively for Canadian residents. This isn't about me or my website—it's about spreading the joy of a delightful fragrance. Gucci Flora is known for its captivating essence, and sharing this free sample opportunity is my way of bringing a touch of luxury to your day.

T

his offer is a gem, but gems are limited. Canadian residents, here's your chance to experience the allure of Gucci Flora Gorgeous Magnolia. Click the link below, complete the form, and get ready to embrace the luxury of fragrance.



Want more free stuff? Check out our Free Samples Page
A little luxury never hurt anyone, especially when it comes in the form of a free Gucci Flora sample. Don't miss out on this opportunity to add a touch of magnolia magic to your day.