October 14, 2023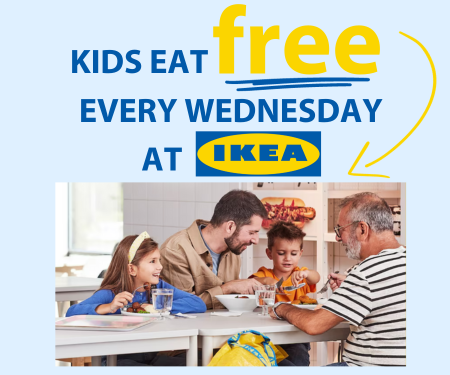 Kids Eat Free Every Wednesday at IKEA
Want to know how to get free meals for your kids at IKEA? Hey! I stumbled upon something awesome recently, and want to share it with you. It's not some flashy ad or promotion; it's a genuine opportunity to save some serious cash while treating your kids to eat free every Wednesday at IKEA.
If you're an IKEA Family member (or if you aren't, it's super easy to sign up), you can get your kids to eat for free every Wednesday at the IKEA Swedish Restaurant. Yeah, you read that right, free meals for the little ones! And the best part? It's not just for one week or two, this offer is valid from September 1st to November 30th, 2023.
Now, let me break it down for you. First, join the IKEA Family program if you haven't already. Trust me; it's worth it for deals like this. You can sign up in-store or online in a jiffy. Plan your visit to IKEA on any Wednesday between September 1st and November 30th.
Head over to the IKEA Swedish Restaurant with your kiddos. They have a fantastic selection of kid-friendly meals, and guess what? Your kids' meals are on the house. Yep, no need to open your wallet for their food.
Now, this offer is available while supplies last. So, it's a good idea to go earlier in the day to ensure your little ones get their free meal.
But let's talk about why this deal is so fantastic. It's not just about saving a few bucks (though that's always nice). It's about making family outings more affordable and hassle-free. You can enjoy a delicious meal together without worrying about the bill. Plus, IKEA's Swedish Restaurant isn't your average cafeteria. They serve tasty and wholesome options that kids and adults love.
So, there you have it, my friend. No strings attached, no hidden fees, just a simple way to enjoy quality family time and delicious food without breaking the bank. IKEA gets a thumbs-up for this one! Give it a try and treat your kids to a meal they'll love, courtesy of IKEA Family.
Enjoy, and bon appétit!
Want more free stuff? Check out our Free Samples Page