November 21, 2023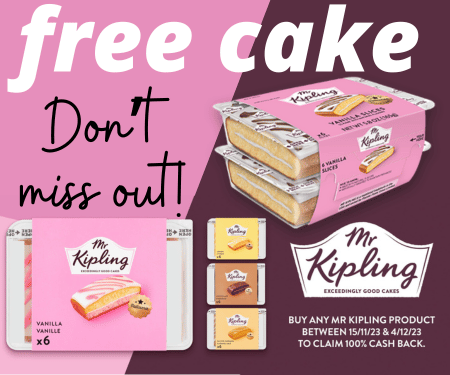 Free Cakes from Mr Kipling
Sweet Deal Alert: How to Score Free Cakes from Mr. Kipling!
If you're as excited about Free Cakes from Mr Kipling as I am, you're in for a treat—literally! Mr. Kipling is spreading the cake love, and here's your chance to indulge in some cake-tastic goodness without spending a dime.
Here's the scoop on how to snag your free cakes:
Cake Hunt: Head to any Canadian retailer between November 15 and December 4, 2023, and grab yourself a delightful 6-pack of Mr. Kipling's cakes. The options are so good; it's almost impossible to pick just one!
Capture the Moment: Once you've secured your cakes, snap a photo of your receipt. It's your golden ticket to free cake paradise.
Claim Your Cash Back: Visit the offer page and upload that receipt along with your details. It's a piece of Free Cakes from Mr Kipling, really. The best part? You'll get a whopping 100% cash back deposited right into your PayPal account. Sweet, right?
Just a heads up—this offer is exclusive to PayPal, so make sure you have a valid account ready to roll. And remember, one cashback offer per person, so share the cake love responsibly! Act fast, though—receipts need to be uploaded by December 11, 2023. Sorry, Quebec friends, you're not in on this one.

But for the rest of Canada, it's time to treat yourself.
So, why wait? Grab your slice of happiness now, courtesy of Mr. Kipling. Your taste buds will thank you!
Want more free stuff? Check out our Free Samples Page