November 21, 2023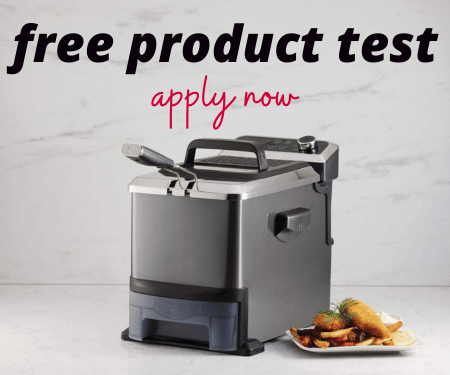 Free Deep Fryer Testing Opportunity
A Free Deep Fryer Experience: Unlock Your Culinary Adventure
'Tis the season for the feastin'! Whether you're gearing up for a playoff-viewing party with an array of chicken wing flavors or savoring a cherished family treat, a top-notch (FREE) deep fryer can turn the messy cooking into a breeze, leaving you more time to enjoy the festivities.
And guess what? We're on the lookout for participants to test out a brand-new quick-drain deep fryer. Picture this: you, as a selected advocate, get to try out this culinary gem and share your thoughts in a short survey at the 1-month and 2-month mark. It's your chance to be a trendsetter in the kitchen!
This isn't just a Free Deep Fryer; it's an opportunity to be part of the cooking revolution. And hey, we're not giving it away—our generous brand is! So, if you're in Canada and up for the challenge, don't miss out. The offer is open until November 24, 2023.
Ready to turn your kitchen into a culinary haven? Apply now by completing the short survey on the linked page. Good luck, and here's to making this season's feastin' even more memorable!
Want more free stuff? Check out our Free Samples Page