October 5, 2023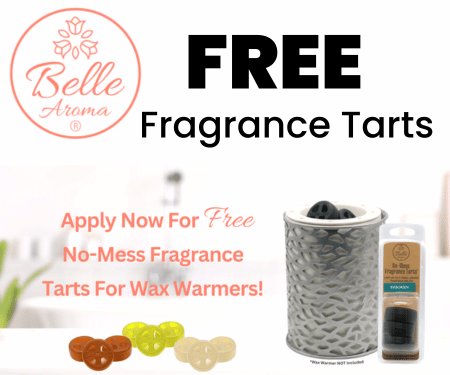 FREE Belle Aroma's No-Mess Fragrance Tarts
Get Ready to Elevate Your Home with Belle Aroma's No-Mess Fragrance Tarts
Are you tired of the hassle and mess that often comes with using traditional wax melt cubes in your wax warmer? Do you crave a simpler, more convenient way to enjoy delightful scents in your home? If so, you're in for a treat! Today, we're excited to introduce you to Belle Aroma's No-Mess Fragrance Tarts™ – a game-changer in home fragrances.
Belle Aroma offers modern and functional home fragrance options while pushing the limits of innovation, style, and versatility. Correspondingly every Belle Aroma product is designed and engineered with ease and sustainability in mind – with the goal of bridging home decor and home freshening. For the upcoming program, Belle Aroma are sampling their stylish and convenient No-Mess Fragrance Tarts™ – the perfect mess-free alternatives to wax melt cubes for your wax warmer. Please note, a wax warmer is not included.
How Can You Get Your Hands on These Amazing Tarts for Free?
Belle Arome are looking for people like YOU and me to try these new No-Mess Fragrance Tarts™ for FREE. To clarify, if chosen, we will become part of the sampling & insights program. Supplies are limited, so don't wait too long.
If you're ready to elevate your home with these fantastic tarts, click the button below to be considered. It's a chance to experience the future of home fragrances and discover the convenience of Belle Aroma's No-Mess Fragrance Tarts™.
Want more free stuff? Check out our Free Samples Page
Get ready to embrace a mess-free, aromatic journey with Belle Aroma's No-Mess Fragrance Tarts™.

Your home will thank you for it!