October 11, 2023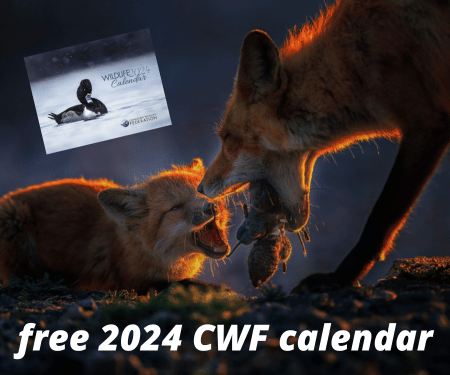 Free 2024 Canadian Wildlife Calendar
Unveiling the Free 2024 Canadian Wildlife Calendar: How to Secure Yours!
I stumbled upon a fantastic deal that I couldn't wait to share with you all. It's access to the incredible 2024 Canadian Wildlife Calendar, courtesy of the Canadian Wildlife Federation (CWF). Here's the lowdown on how you can snag this beautiful calendar for yourself.
1. Register on the CWF Website:If you're not already part of the CWF community, the first step is a breeze. Head over to their website and register. It's a quick process, and it opens up a world of wildlife wonders.
2. Make a Donation to Support Conservation:For those passionate about supporting wildlife conservation efforts, making a donation is another avenue to get your hands on the coveted calendar. Your contribution goes a long way in helping CWF's vital conservation programs. It's not required to get a calendar.
3. Fill Out the 2024 CWF Wildlife Calendar Request Form:Once you're registered or have made your donation, the next step is to fill out the 2024 CWF Wildlife Calendar Request Form. It's straightforward—provide your contact information, and voila, you're on your way to receiving a calendar that showcases the beauty of Canadian wildlife.
Not only do you get a visually stunning calendar, but you also become part of a community dedicated to preserving and celebrating Canadian wildlife. It's a win-win!

So, whether you're a wildlife photography enthusiast or simply love having a beautiful calendar on your wall, this deal is too good to pass up. Embrace the beauty of Canadian wildlife and support a noble cause—all with a few simple steps.
Don't miss out on this chance to bring a touch of the wild into your life. Register, donate, and let the countdown to your 2024 CWF Wildlife Calendar begin!
Want more free stuff? Check out our Free Samples Page