November 7, 2023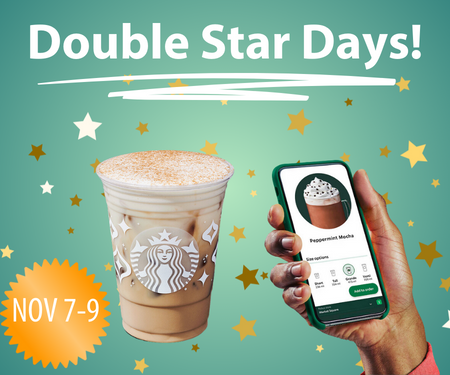 Starbucks Offers: Double Stars Days November 7th – 9th
How to Score Double Stars and Extra Perks with Starbucks Offers
If you're a Starbucks enthusiast, you're in for a treat! Starbucks Canada has a fantastic deal that you won't want to miss, and I'm here to show you how to make the most of it.
Double Stars Extravaganza
From November 7th to the 9th, Starbucks Canada is offering double stars on all your purchases. It's as simple as it sounds – for every dollar you spend, you earn twice the stars. Here's how to seize this opportunity:
Activate the Offer: Before you start earning double stars, open your Starbucks app and check for this special offer. You'll need to activate it to ensure it applies to your orders.
No Limits: The best part? There's no limit to the number of stars you can earn during this promotion. The more you purchase, the more stars you'll accumulate. So, whether it's your regular coffee or a fancy seasonal drink, it all counts.
Scan Your App: To earn stars, make sure to scan your Starbucks app at the register or when you place an order through the app. It's a simple step that can add up to more rewards.
Exclusions: Keep in mind that stars can't be earned on purchases of gift cards or reloads. But, apart from that, your purchases are fair game for double-star rewards.
Bonus Challenge: 100 Extra Stars
But wait, there's more! Starbucks Canada also has a bonus challenge for you. If you complete one of the following three challenges, you'll earn an extra 100 stars:
Turkey, Provolone, and Pesto on Ciabatta: Order this mouthwatering sandwich three times.
Espresso Frappuccino Blended Beverage: Sip this refreshing beverage three times.
Espresso Macchiato: Enjoy this classic coffee choice four times.
This bonus offer is valid until November 12th. To get your 100 bonus stars, you'll need to choose one of the challenges and activate it. Please note that this offer cannot be combined with other promotions.
Starbucks Canada's double stars offer and bonus challenge are fantastic opportunities to earn more rewards while enjoying your favorite Starbucks treats. Remember to activate the offers in your app, scan your purchases to earn stars, and choose a challenge for even more perks. It's a win-win situation for all coffee lovers. Enjoy your Starbucks experience to the fullest!
Want more free stuff? Check out our Free Samples Page