November 7, 2023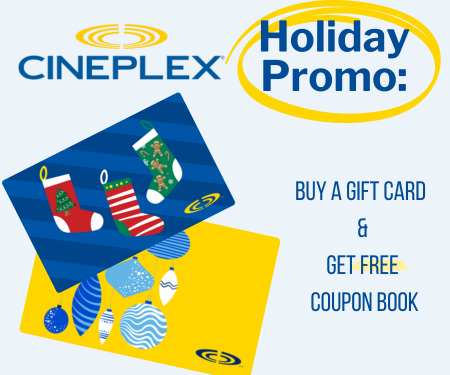 Cineplex Holiday Promo: Buy a Gift Card Get Free Coupon Book
Unlock Savings with the Cineplex Holiday Promo Gift Bundle Coupon Book
If you're a movie enthusiast looking to maximize your cinema experience while saving some money, you're in luck. In this article, we'll explain how to obtain the Cineplex Holiday Promo Bundle coupon book and make the most of its fantastic offers. We're not giving away these coupons; we're simply sharing how you can get them and use them to enhance your next movie outing.
How to Get the Coupon Book
To kickstart your savings, all you need to do is spend $50 or more on gift cards either online or at Cineplex Theatres before December 31, 2023. It's as simple as that. This coupon book is the perfect holiday gift for yourself or any fellow moviegoers you know.
What's Inside the Coupon Book?
Once you've met the spending requirement, you'll receive a Cineplex Holiday Gift Bundle coupon book. This book contains a treasure trove of offers, including:
2 x Free Regular Popcorn
1 Free Adult General Admission
2 x Free Movie Ticket Upgrade With A Paid General Admission
1 Buy One Get One General Admission
1 Free Regular Drink With The Purchase Of A Regular Popcorn
1 Buy One Candy & Get 50% off the Second Candy
These incredible offers are valid from January 1 to March 31, 2024. It's your ticket to enjoying more popcorn, movies, and snacks during the early months of the new year.
Redeeming your coupons is a breeze. Simply present the coupon book at any Cineplex Theatre, and they will be happy to honor your savings. Whether you're treating yourself to a movie night out or sharing the joy with friends and family, these coupons will make your cinema experience even more enjoyable.
The Cineplex Holiday Gift Bundle coupon book is a fantastic way to enhance your cinema experience and save money at the same time. With a straightforward spending requirement and a range of valuable offers, it's a win-win situation for movie lovers.
Don't miss out on this opportunity to enjoy free popcorn, discounted tickets, and more. Head over to Cineplex Theatres before December 31, 2023, to meet the spending requirement and secure your coupon book.

You'll be all set to start 2024 with an abundance of savings and cinematic adventures. Happy movie-going!
Want more free stuff? Check out our Free Samples Page