August 15, 2023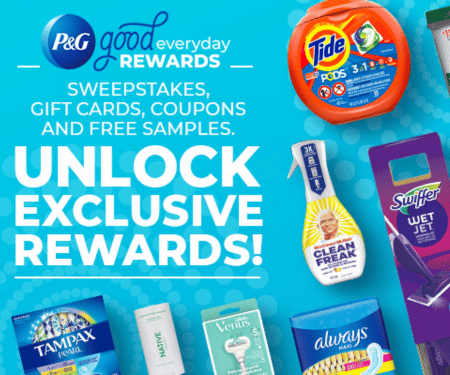 Join Free: P&G Good Everyday
Join P&G Good Everyday for access to the best high value coupons good for products you know and love. In a world that's always on the move, who doesn't love saving a few extra bucks here and there? Imagine having access to exclusive coupons that not only help you save money but also let you earn rewards and support causes close to your heart. Intrigued? Let's dive into how you can grab this opportunity and make the most out of it.
It all starts with a simple sign-up. Head over to the linked page and register with P&G Good Everyday to become a part of the savings revolution. The process is straightforward, and you'll be on your way to unlocking a world of discounts, rewards, and positive impact.
Once you're in, let's break down how this system operates:
Earn Rewards: Accumulate points as you interact with P&G Good Everyday. It's not just about coupons; it's about convenience. Engage with the platform by taking quizzes and answering surveys!

Each interaction adds to your points tally, which you can later redeem for rewards that resonate with you. The more you engage, the more opportunities you'll have to access unique rewards. From exciting products to delightful experiences, the possibilities are endless.
Do Good: Here's where the magic happens. As you earn points and enjoy savings, you're also making a positive impact on the causes you deeply care about. The platform automatically makes donations to charities based on your preferences, turning every engagement into an opportunity for good.
Once you're signed up and familiar with the process, it's time to dive into using those exclusive coupons. Keep an eye out for promotions, deals, and discounts related to P&G products. As you find the coupons that match your needs, simply apply them during checkout – whether online or in-store – and watch your savings grow.
Remember, it's not just about the immediate savings. With each engagement, you're inching closer to fantastic rewards that reflect your interests. Whether it's trying out new P&G Good Everyday products or indulging in experiences you've always wanted, your points will open doors to exciting possibilities.
Want more free stuff? Check out our Free Samples Page
Experience the transformation today, and let's embark on this exciting journey together!